The Physics House Band + AK/DK @ Old Blue Last, London 29.04.13
Bearded came to check out proggy headliners The Physics House Band. But it left digging larky analogue mavericks AK/DK...
Apr 29th, 2013 at Old Blue Last, London / By
Ben Wood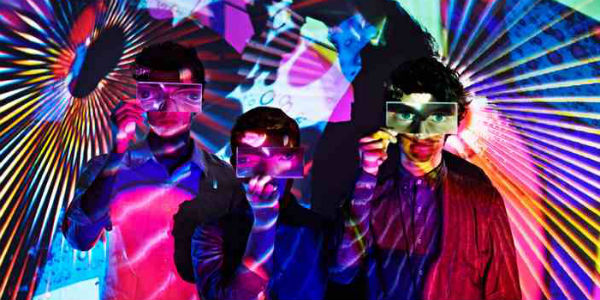 Shoreditch's indie crucible The Old Blue Last is a small gig nirvana: promoters who put bands on 'cos they love 'em; gigs that are usually free; and barely enough room to swing a cat.
Maybe vocals cost extra as tonight, apart from the occasional Lydon-esque shout and sneer from openers AK/DK, is a song-free zone. It's all about grooves, chops and atmospherics - not that this is a problem for the night's surprise package...
AK/DK
are a duo obsessed with old synths and analogue kit in general, with quite a pedigree for a new-ish band. Graham (drums/synths/vocals) and Ed (live drums/synths) have played with Can legend Damo Suzuki, and supported the Dandy Warhols on a recent European tour.
The old buggers knew what they were doing. To keep things fresh and exciting, every AK/DK gig is improvised and tonight, Matthew, they kick off by combining the driving rhythms and spacey synths of krautrock, with the straight-ahead trancey grooves of mid-90s techno legends Hardfloor and Richie Hawtin.
Just when you think you've got 'em pigeonholed, the chaps de-hippify Pink Floyd with an audacious mash-up quoting from 'Interstellar Overdrive', 'One of These Days (I'm Going to Cut You Into Little Pieces)' and 'Set the Controls for the Heart of the Sun'.
But they save the best for last, displaying a pop sensibility, admittedly a twisted one, as they close with the demented toytown electro-ramalama of new single 'Battersea'. A combination of high-pitched keyboard riff and madly wavering vocodered vocals could be an irritating nightmare. However, it is madly fun, a hooky delight, and the crowd goes nuts as delighted smiles dawn on a hundred faces.
Headliners
The Physics House Band
have already built up quite a live reputation in their hometown of Brighton, and you can see why. They love to play, and their sound neatly encapsulates decades of proggery in its intricate groves and tricksy chord changes.
From pastoral Floyd noodling through flashy Rush riffing to chunky Battles-esque action ("that sounded like 'Ice Cream'", says a friend), the PHB reference several generations of chops-heavy, technically skilful boy-rock. However, apart from the satisfying returning riff action of their recent EP opener 'ObeliskMonolith', much of this is easy to admire, trickier to love.
The Physics House Band are genuine enough, and clearly love what they do. However, only one band tickled our fun glands tonight - the more than OK AK/DK...
The Physics House Band Links