The Phoenix Foundation @ The Scala, London 02.06.11
It's a beautiful summer's evening and a packed Scala is buzzing with excited Kiwi expats (and a smattering of locals). They're here to see six-piece guitar-pop veterans The Phoenix Foundation (named after a secret organisation in cult 80s US detective show MacGyver, fact fans!).
Jun 2nd, 2011 at The Scala, London / By
Ben Wood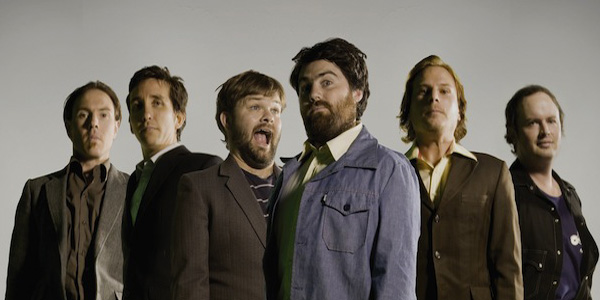 After five albums the band are a big deal in New Zealand, and have started making waves elsewhere, since they soundtracked much of 2007 indie smash Eagle vs Shark. The latest album
Buffalo
sees them embark on a mellower direction, with some gorgeous slo-mo space-pop in among their chirpier numbers.
The gig kicks off at a glacial pace, the ambient mong-pop of 'Eventually' reminiscent of mid-70s Brian Eno (when the great man still sang) and early Spiritualised. The band is fronted by two bearded singer/guitarists, one of whom looks remarkably like a younger, skinnier Adrian Chiles. He and his bandmates are beaming ear to ear, and their enjoyment is infectious: there's a real homecoming feel to the gig as the crowd gets increasingly boisterous.
The occasional spell of ho-hum pop-rock sees the band flirt with the middle of the road, but for most of the time they successfully alternate between country-flecked, conversational story-songs; catchy grooves, like recent single 'Pot', that get the audience singing along; and '70s-style proggy wigouts that could happily have gone on slightly longer, as far as this critic is concerned.
One of the band's – extremely friendly – fans says that many NZ bands are handicapped by the fact that "it's not in the Kiwi nature to be exhibitionist". Can you imagine AC/DC being Kiwis, for instance? Exactly. But after almost a decade and a half of playing together,
The Phoenix Foundation
are a darn good live band.
They're not lacking a sense of humour, treating us to songs about fruit-based sex (I think), sex change operations and urban regeneration; while the garagey grooves of other numbers bring to mind Jonathan Richman and the Velvets.
There's a definite whiff of the spliff about many of these tunes (one remarks "I'd rather stay in and smoke dope than go out and get punched in the face", an eminently sensible point of view). But any tendencies towards bliss-out are kept in check by Kiwi reticence: the anthemic 'Brighter Grey' pictures said shade as about the best you can hope for!
Two encores later, the band heads off into the night. For an hour and a half, a small part of London was twinned with Wellington – and very nice it was too…
The Phoenix Foundation Links