The Ocean @ The Relentless Garage, London 25.11.11
Metal is alive and well and to demonstrate this, The Ocean own the Garage from a support slot well deserved.
Nov 25th, 2011 at The Relentless Garage, London / By
Nate Selby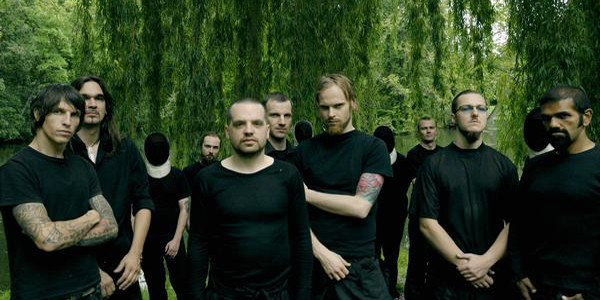 The Ocean
step out to a slightly tentative response. Aliases had just openly and blatantly wounded the crowd exactly how they liked, leaving some pretty big boots to fill, and the crowds minds have started to turn to the night's headliners Textures. However, about half way through their opener, the crowd is swaying and dazed by the shear force of The Ocean.
Not at all afraid of bringing an axe wound of their own to the evening, the German five piece strategically begin to beat the shit out of their instruments creating a cacophony of noise.
The band seemingly leave no stone unturned when it comes to influence, infact it would be hard to accurately place The Ocean into a genre. Perhaps this is why they call it "ambient soundtrack doomrock"? The band establish grooves and builds on them throughout their tracks such as 'Firmament', taking their time to build their point, and then enforcing it with a ferocious flurry of technicality.
Un-like the other two bands billed, The Ocean don't throw everything at you in every track in a flurry of anger. At points you would struggle to even describe this as metal though it is, it definitely is. Their low guitars so low tuned you could mistake it for a bomb hitting the venue. However their constant flow from the excessively loud distorted riffage, to the melodic slow atmospheric break downs creates a certain anticipation of where the next punch is actually coming from.
One thing is made perfectly clear by The Ocean, they can put on one hell of show. Vocalist Loic Rosetti absolutely owns the stage and keeps the crowd on their toes throughout the set, infact their performance could only be more eye catching if they literally had jumped at the crowds collective face with fishing hooks. With a well thought out ever-changing projection video as a backdrop and constant movement, even the skinniest of indie kids would admire their efforts.