The Mysterines @ Jimmy's, Liverpool, 07.12.19
Ascendant Liverpool alt. rock trio turn in a victorious show on home turf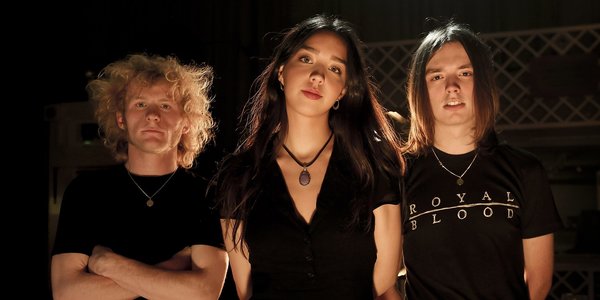 Near non-stop touring as both headliners and in support slots and plenty of radio airtime has seen Liverpool guitar slingers
The Mysterines
sell out their last hometown gig of the year weeks in advance.
Proof that their burgeoning profile isn't just linked to Merseyside, the trio have pulled off the same trick in the capital as their London gig has just had a venue upgrade.
As the 1980s hits compilation that provides the between-bands soundtrack fades away, the Beastie Boys' Sabotage ushers the trio on to the stage. Within a minute of the opening chords being struck, the trio led by singer/guitarist Lia Metcalfe's charismatic presence have the assured air of a group with the confidence and talent win over any audience.
The sound for the opening stretch doesn't do them any favours whatsoever unfortunately as the vocals have so much reverb applied to them it sounds as though they're being heard in an empty arena, not a packed basement club. That said, spotlighting the vocals inadvertently showcases how good a singer Metcalfe is, her sonorous voice cutting through the mix no matter how raucous the songs become. In the engine room drummer Chrissy Moore pushes things forward with straight-ahead metronomic precision, while bassist George Favager in a Nirvana T-shirt aptly has the same perma-grim that Krist Novoselic wore onstage.
As the makings of their debut album, Bet Your Pretty Face and new single Gasoline thunder past
Hormone
, founded on a riff redolent of BRMC classic What Ever Happened To My Rock And Roll? steamrollers along superbly, the couplet "
Your freedom fails with blindness / Like a businessman with no lies left
" highlighting their ability at creating a vocal hook.
A stampeding version of
Take Control
supplies the highlight of the evening, the moshpit that began at the top of the set taking on extra participants. For the encore two lads are hauled up from out of the crowd to cover the battle of the bands winning tune written by the pupils in
School of Rock
.
In an excellent bit of serendipity the song playing in the upstairs bar as the crowd streams out is the school principal's favourite song, Stevie Nicks' classic Edge of Seventeen. And to conclude on an education metaphor, have the Mysterines graduated? The certificates are in the post.