The Magic Band / The Wicked Whispers @ Kazimier, Liverpool 03.12.11
The second Butterfly's Ball and Grasshopper's Feast headlined by Captain Beefheart's legendary backing band, with event organisers The Wicked Whispers in support.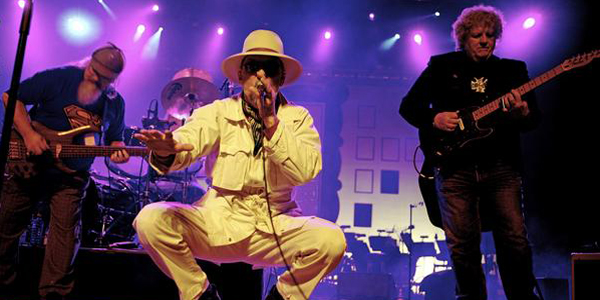 Taking its name from Liverpudlian writer/philanthropist William Roscoe's proto – Alice in Wonderland poem, the second annual Butterfly's Ball and the Grasshopper's Feast sees organisers
The Wicked Whispers
bag what is surely their dream booking.
The Whispers' set, their drummer perched high in a crow's nest kit above the stage offer an alternative take on the psychedelia proffered by The Magic Band. While sharing kinship with Beefheart's crew, the quintet's Syd Barrett-esque vocals and Victorian literature influenced lyrics, mark the band out as resolutely English as The Magic Band are American.
The upbeat stomp of 'Odyssey Mile' has the same immediacy as on record, showcasing the tougher end of their sound, bouncing along like a
Nuggets
compilation escapee. Elsewhere the weaving Vox Continental organ melody of 'Amanda Lavender' works its beguiling magic under the swirling lightshow.
'Captain Beefheart was an artist, not a hitmaker', lead singer John 'Drumbo' French says at the top of
The Magic Band's
set. The adage proves to be well-founded as the man born Don Van Vliet's enduring presence over Liverpool music cannot be overstated. The Zutons took their name from their guitarist, The La's are massive fans while the band's performances at the now demolished Liverpool Stadium in the mid-seventies are still discussed with reverential awe.
Songs that are the polar opposite of custom-built stadium rock numbers are gleefully chorused by the audience regardless.
Clear Spot
gem 'Big Eyed Beans from Venus' supplies one of the highlights, while 'Abba Zaba' allows Rockette Morton ample room to show off his exemplary bass skills, carrying much of the song solo.
The night is saved from being a mere nostalgia-fest by the number of original players present (three of the five musicians) and the level of skill involved, the more bludgeoning moments of the set sounding eerily contemporary. Despite the occasional sound glitches, the players' virtuosity shines through, the five-piece capturing the nuances of the original recordings.
As frontman, while Drumbo understandably doesn't have the same mildly unhinged, vaguely dangerous air of his former boss, his impeccable re-creation of Beefheart's vocals means such minor objections quickly pale.
Stepping behind the kit to turn in a solo of astounding skill and dexterity, Drumbo reminds everyone it was him who originally provided the polyrhythmic beats on many of the albums. With the gig almost a year to the day since the good Captain departed the earth his influence in this corner of the universe burns brightly.