The Lucid Dream @ The Shipping Forecast, Liverpool 28.02.14
Carlisle psych innovators triumph on Merseyside
Mar 3rd, 2014 at The Shipping Forecast, Liverpool / By
Richard Lewis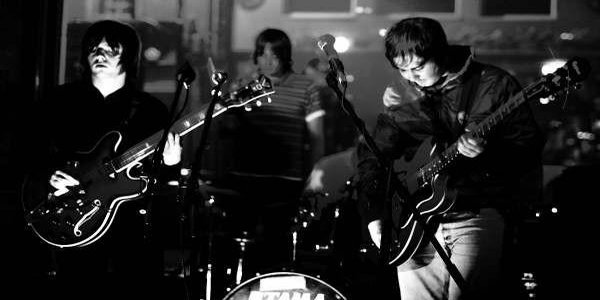 With subterranean gig space The Hold at near capacity at the improbably early time of 8pm,
The Wild Eyes
shoulder-charge their way into their spiky psych garage missives, sweeping all of the assembled crowd along with them.
Their recent time spent in the studio bunker fine tuning the sonic artillery is devastatingly conveyed as 'Sweet Teardrops' given a newly-located motorik undertow juggernauts past, along with a demonically trebly assault on 'I Look Good On You'. An XL version of 'TV Junk' meanwhile concludes only to start up again into an accelerated jam, guided round the changes by frontman Huw Roberts' Wilko Johnson-style guitar heroics. Switching to more expansive pastures 'Greenlands' essayed last showcases the band's skill at (near) instrumental vistas, the Can inspired piece drifting past beatifically.
Their first visit to Merseyside, Rennes septet
The Sudden Death of Stars
run the gamut of just about every thread, genre-experiment and sub-category under the psychedelic banner. Their default setting honing in on sixties inflected psych pop is more than convincingly carried off, right down to the presence of sitar which is impressively crammed on to the compact stage with the rest of the band members.
Diverting into Francophone pop, recent single 'Inside Out' supplies the kind of yé-yé girl fare that Megan Draper would quite happily dance around her apartment to. The best moment occurs three quarters of the way through the set as a jangling riff that sounds as though it was purloined off an early Byrds' album rings out, visually set off by the backing vocalist/tambourinist who stands sideways on to the audience.
None-more-suited to the murky depths of the basement, tonight resembling a low-ceilinged reimagining of the UFO Club
The Lucid Dream
inhale deeply at the top of their set and proceed to deliver the songs in one complete hit. A darker variant on The Sudden Death of Stars' noon-bright sunshine pop, the sinister melodies of last year's debut platter
Songs of Lies and Deceit
merge into a darkly glorious psychedelic melange.
A strong draw round these parts following repeated forays down the M6 over the years, excellent recent 45 'Moonstruck' provides the highpoint, its fizzing momentum gaining greater intensity live, the rhythm section making the most of the tracks' mesmeric Suicide-inspired foundations. On rumbustious form throughout, the sole minor gripe is that outstanding flipside 'The Emptiest Place' isn't played. One of the leading exponents of psychedelia in these isles at present, their burgeoning cult following increases with each visit to the city, an example the rest of country would do well to copy.