The Lemonheads @ Manchester Ritz (07.10.15)
Evan Dando & Co on stunning form in a career-spanning set in Manchester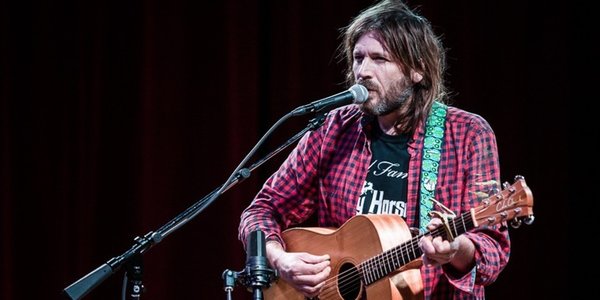 'Don't Jizz on Satan' says the handwritten motto on the lead singer's long sleeved white shirt just below the right collarbone. No, we don't understand either, but then much of
The Lemonheads
career has been equally inexplicable at times. Evan Dando, owner of said shirt/songwriting genius/mid 1990s gossip column mainstay is touring the UK fronting yet another permutation of the Boston based group he has piloted as part of a duo, then solo since 1986.
Led onstage at 9pm exactly by Dando who somehow doesn't seem to have aged in ten years, recently arrived lead guitarist Chris Brokaw says a brief hello and the quartet saunter effortlessly into deceptively breezy 1996 cut 'Hospital', bassist Jen Turner excitedly pogo-ing throughout. Where the band's
2011 UK tour
saw them undertake a played-in-full rampage through classic album
It's A Shame About Ray
in gritted teeth, heads-down no nonsense boogie mode, the current dates see Dando & Co in far more relaxed mood.
After half a dozen band essayed tracks, including 'Dawn Can't Decide' and 'Style' from 1993 commercial peak
Come On Feel...
the gig follows the long established pattern where Dando plays a clutch of songs solo then with the aid of a second guitarist.
Delving deep into his back catalogue, 'Frying Pan' by cult US singer-songwriter Victoria Williams from a 1993 charity LP is aired along with an acappella version of
...Ray
's original closing track, whimsical hippy landmark 'Frank Mills' sung by the crowd en masse. 'The Outdoor Type' a cover of a track by frequent collaborator Tom Morgan and a score of tracks from 2003s excellent solo LP
Baby I'm Bored
follow, including a poignant version of 'All My Life' that showcases just how hard Dando's lyrics can bite.
Waving the rest of the band back onstage a double hit of 'Confetti' and 'It's A Shame About Ray' sees the entire venue providing choruses while plangent versions of 'Break Me' and 'Rudderless' switch between churning minor chords and defiant choruses. Tantalisingly, a new song snippet is debuted following the track which lasts for a single verse before being abandoned and a shrugging admission that the song isn't finished. Elsewhere 'Stove' stands as proof there aren't many songwriters who could make the tale of disposal of an electric stove and chatting to a removal man sound moving.
Following much demand and a long teasing wait, the quartet reappear to hurtle through a single song encore of 'Alison's Starting To Happen' before ambling offstage again to massive applause and a faint flicker of hope that Dando's songwriting muse is alive once again.