The Leisure Society @ Islington Town Hall, London 15.04.15
A classy performance by Nick Hemming's chamber-pop maestros shows why they deserve a much bigger stage
Apr 15th, 2015 at Islington Town Hall, London / By
Ben Wood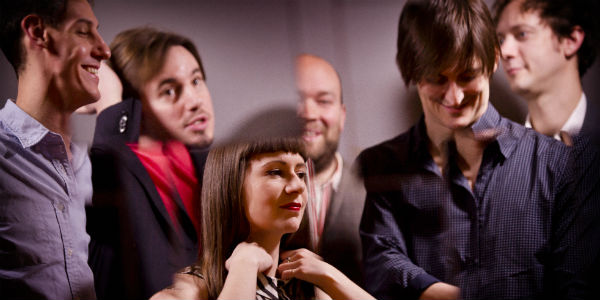 Smart, emotionally literate and as English as anything,
The Leisure Society
write hooky, emotive songs about the big subjects in life. Their latest album,
The Fine Art of Hanging On
, may only have been out a few days, but tonight's crowd already seems to know every word. In fact, it's one of those gigs that makes you wonder why this lot aren't much bigger than they are. Mind you, they said the same about Elbow, another band who specialise in serving both heart and brain, a few years ago...
From a certain angle, frontman / songwriter Nick Hemming is reminiscent of a young Jarvis Cocker - from the skinny frame and angular features to his wry sense of humour and way with a crowd. While Hemming occasionally swaps his acoustic guitar for an electric one, the band's line-up includes flute and violin, and has more in common with the sophistication of The Divine Comedy than anything as grubby as rock music (not that grubbiness doesn't have its place of course... just not here).
There are moments, especially early on, when the group seems a band out of time - their eclectic and melodically smooth sounds coming across like old Radio 2 favourites you can't quite place. They've been pigeonholed by some critics as a folk-pop band, but this seems wide of the mark. Pretty much everything hits the spot, but
Bearded
reckons they work best on swooning ballads such as the new album's lament 'Tall Black Cabins', and their more upbeat, summery, Britpop-esque moments, such as super-catchy humanist anthem 'Fight For Everyone'.
Just when you think you have the band worked out they throw us a curveball, such as a Brechtian ecstasy waltz inspired by Nick's clubbing days (they have a fondness for 3/4 time, oddly enough). Indeed, for such a classy-looking bunch, they have quite a few songs about the joys and regrets of hedonism. 'We Were Wasted', the closing song from Nick's friend Paddy Considine's emotionally wrenching film
Tyrannosaur
, is particularly sad and beautiful.
Glam-tinged proggy newbie 'I'm a Setting Sun' hits the spot, while the likes of 'This Phantom Life' ("if only we knew the answers / we could print them up on T-shirts") show the lyrical acuity that has led to Kinks legend Ray Davies hailing them as kindred spirits.
By the encores, the crowd is joining in with gusto. Debut album fave 'A Matter of Time' prompts an enthusiastic singalong, and the gig ends on a high. If there was any justice in the world,
The Leisure Society
would be stars. But to everyone in Islington Town Hall tonight, they already are.
The Leisure Society Links