The Lay Llamas @ Shacklewell Arms, London 04.10.14
The second night of the Two-Headed Dog festival saw promoters Bad Vibrations and Baba Yaga's Hut showcase four bands from all over Europe for a bargainous price.
Oct 4th, 2014 at Shacklewell Arms, London / By
Ben Wood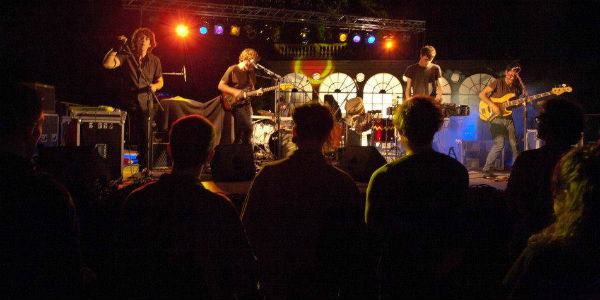 Before headliners The Lay Llamas take the stage, we are treated to a beautiful surprise. Swiss 'psychedelic punk blues act'
Roy and the Devil's Motorcycle
may have a God-awful name but they are absolutely ace. Their set is split between droning psychedelic mantras reminiscent of Spacemen 3, and more laidback grooves with country and blues influences. Hypnotic and narcotic, driven and anchored by a drummer utterly lost in the music, and recognising that less is often more, this is great stuff indeed.
Italy's
Lay Llamas
are labelmates of Goat, with a similar love of a bonkers backstory and a love of postmodern ethnographic japery.
Bearded
isn't entirely sure that they
have
travelled to the Shacklewell Arms via late 21st century Nigeria and outer space - but it's glad they have made it back in time to share their spacey grooves with us.
Frontman Gioele Valenti leans into the mic, playing a variety of percussive instruments as he intones the band's simple, mantra-like lyrics. His fellow Sicilian and band founder, the boyish Nicola Giunta, lays down solid basslines as the set builds from a steady start towards an increasingly uptempo climax. 'We Are You' is perhaps their most anthemic tune, pulsing and hook-filled. The man to
It is also surprisingly accessible - the basslines anchor the tunes, so that while the melodies may spin off into the cosmos, the Llamas never get too noodly. There's plenty to get heads nodding and feet moving here - the crowd gets ever more enthusiastic, and the tempo speeds up. Only a broken string prevents them giving the crowd the encore they demand.
This is music to get lost in, aided and abetted by the venue's impressive sound system. The Llamas say their next album may sound quite different - it'll be fun finding out.