The Jim Jones Revue @ 229, London 05.04.12
A kick-ass, high-energy take on 50s rock'n'roll that kicks like a mule.
Apr 5th, 2012 at 229, London / By
Ben Wood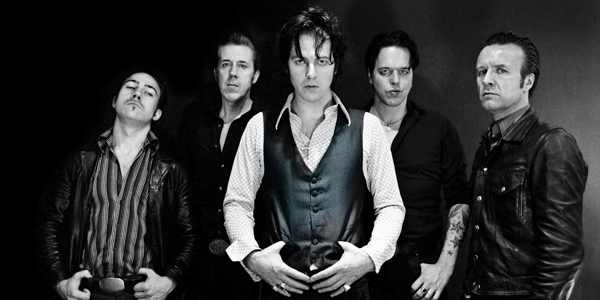 Headlining the first night of the 'mod/psych/beat' Le Beat Bespoke Festival (the Pretty Things! The Crazy World of Arthur Brown!),
The Jim Jones Revue
deliver a fired-up, supercharged take on 50s rock'n'roll.
Looking like a cross between Combat Rock-era Clash and the mighty Bad Seeds, these bequiffed, tight-trousered swaggerers are not a subtle bunch. Former Thee Hypnotics singer Jones screams himself hoarse as he delivers his tales of lust and rebellion.
The band is tight as hell, though the thump of bass and drums occasionally swamps the mix and makes the sound a trifle one-dimensional. There's certainly nothing too complex here – it would get in the way of the most impressive rock'n'roll shape-throwing I've seen since Iggy Pop was in town – but fans of the primal, bluesy howl of the Birthday Party and the bludgeoning aggression of the MC5 will find much to dig.
Pianist Henri Herbert pounds the keys like a punk rock Jerry Lee Lewis, while guitarist Rupert Orton throws windmill shapes and peals off screaming solos. In Spinal Tap terms, they start off on 11, and then turn it up from there.
Alongside high-energy originals from its three previous albums, the band pays tribute to late Gun Club singer Jeffrey Lee Pierce, and previews tracks from the forthcoming new album – including a rare foray into politics on anti-banker rant 'Where'd the Money Go?'
There's the occasional move into more musically complex territory, but these boys know what they were put on this earth to do – rock like bastards. By the end of their second set of encores, everyone at the front is going apeshit and the band looks utterly spent.
It's really refreshing to see a band so dedicated to giving everyone a good time. You couldn't exactly say the Jim Jones Revue has a bunch of great songs, but they're a great watch. You have a nice sit down boys, you've earned it…