The Great Escape in Brighton 08-10.05.14
Revellers know the festival season really has started to begin with the return of Brighton's The Great Escape. Made for showcasing the finest of the music world's up-and-comers and proving to be the early bird in terms of what bands are going to be doing the rounds next year, Harley Cassidy decided to head down to catch the brand new cream of the crop.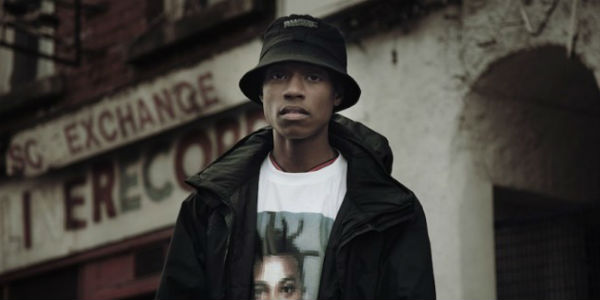 Thursday 8th May
It's the first day of the festival, the weather is absolutely dire and there are so many bars and pubs lurking around that it's hard to figure out what place will offer you the cheapest, nicest pint. Despite all of this, roisterers are braving the biting, no holds barred seafront to catch
Jaakko Eino Kalevi
. When he's not busy driving trams back in his native Helsinki, Jaakko is wrapped in his candyfloss world, producing and singing his own experimental pop numbers dipped in every musical condiment, from funk to psych. Taking to the cavernous Coalition, Finland's most prolific, long-haired oddball uses his charismatic charm to dust off his muffled, childlike quirk to a bating crowd. Channelling the peculiar allure of artists like Ariel Pink and Connan Mockasin, Kalevi has opened his magic box of tricks and cast a spell on every pundit there.
Later on, the Coalition is filled to brimming point and expanding out the door for early noughties CBGB revivalists,
Drowners
. Bearded doesn't actually get to see the band because the delegate queue is also over flowing, so we have to use our aural senses to determine that Drowners cross a hybrid of sounding like The Libertines, kinda, with touches of what some would lazily call Britpop, but actually play on the blunt delivery of Julian Casablancas.
After a few more songs, its decided that the wind wasn't for us and headed far, far away to Audio. Personally, rap shows are an exciting game. The type of gig this writer usually frequents would fall under the bracket of "band" usually pre-fixed by the word "indie". Tonight,
Rejjie Snow's
fortunately falls under none of that. Young rappers are always getting bigged up. Joey Bada$$ and his acclaimed Summer Knights mixtape last year had critics raving about his smooth, old school sound, delicately and naturally approached by someone of such tender years. This year, Rejjie Snow (pictured) has took the baton of respectable, young rapper and thrown himself full hurtle into the race. It's easy to compare him to fellow left-field rap biggies, Odd Future, but Rejjie Snow's lyrics and style seem to have more solidity. Backed only by a beat maker and pretty lighting, Snow is cool and confident, flowing through his songs with just enough dose of cheekiness to balance those baritone, grave turning vocals. He's also Irish. A black, Irish rapper. Which we thought was really cool.
The female rap game is also brimming with fertile rappers. We have Azealia Banks, a huge potential talent with just the right balance of style and substance and fantastic tunes let down only by her confrontational nature and absence of a debut album. Angel Haze, a powerhouse rapper with a punch to the gut flow and electrifying stage energy alongside the more mainstream ride of Iggy Azalea. Combine all these three however and their fierce levels are still zilch compared to Lizzo's.
Lizzo
jumps around the stage, leaving every inch, ungrinded and untwerked upon. It's like Salt-n-Pepa fronted by Queen Latifah. She's hilarious but in all the right ways. We're not laughing at her, God, we don't even think we're laughing with her, as her bite is openly satirical, leaving us thinking that she's walked more than a mile in some Louboutins.
We end the night with
Childhood
. Enough Indie bands have plagued the Great Escape's line up but few have the tunes, atmosphere and fun factor to support them quite like these guys. Anyone could lazily chuck a Stone Roses/Britpop/90s reference in there, but Childhood are sailing at a different pace, with their music more tranquil and less "mad fer it" than their bearers preached.
Friday 9th May
The weather is considerably nicer today and Brighton looks almost day-glo. So what better way to start the day than to visit a band who sing and rave about the sun and it's lovely, beneficial factors. Brummie quartet
JAWS
are easily one of the ones to watch out for. They've packed out Komedia by 1.30pm leaving no doubts as to how their later show capacities are gonna go. Sending waves of summer vibes crashing into the building, their lazy, laid back approach to their songs and stage presence leave a nice, balmy wake as well curated tunes like 'Surround You', 'Stay In' an 'Gold' float around the room. "Is it too early for moshpits?" jokes frontman Connor Schofield, as the solemn crowd stand stock still. Maybe so, but for anyone who has frequented a JAWS' gig of late, we all know that those pesky journalists *cough* aren't going to keep a hold on too much crowd action for very long.
Glaswegian, post-punk indebted trio
Baby Strange
have caused a furore lately with their menacingly tantalising take on dark indie, uplifted only by catchy choruses. Palma Violets are fans and Swim Deep have turned up to watch the guys give it some welly in a suitably pitch black room in the Dome Studio. Bassist, Aidan McCann is the one that everyone is watching though; with an Ian Curtis pallor, small demeanour and decked out in low slung braces, he bounds and bends around the stage as frontman Johnny Madden snarls into the microphone about his woes and youth ridden traumas. As the precarious riff of 'Pure Evil' rings through, it's a wonder why Baby Strange haven't been placed on a higher pedestal.
One of Friday's secret shows is held in the tiny outdoor backyard of the Shipwright's Yard pub. Entrance is permitted through the back gate and capacity is chock a block. It's filled with mainly critics and delegates albeit the small minority of lucky ticket holders who managed to get in to see Brighton's homegrown,
The Wytches
. Tapping into the darker root of psychedelia and masking it with piercing, tormented vocals, The Wytches aren't just about creating noise. Their riffs and timings are on point and leave the ratio of headbangers to non-headbangers in the crowd very small. They leave out 'Beehive Queen' but play with enough gusto to pretend that we didn't even know that song anyway. John Robb has likened them to some sort of new age Nirvana and whilst we're unsure as to whether this claim can be perfectly true, The Wytches play with a feral like passion that lacks in so many bands of late.
Over at The Haunt, NME have, rather surprisingly, enlisted New York hip-hop collective
Ratking
. Jumping from early, bedroom laptop productions to a stage at one of the UK's most prestigious new artist festivals, Ratking have amassed a neat, loyal following (the majority decked out in snapbacks and independent clothes shop pullovers). Ratking's style and flow is something that's not exactly on the beaten track of rap; they're edgy: mavericks, if you will, and seem to have the spirit and talent to be the next big collective that gets blown up.
Telegram and Public Access TV follow Ratking, neither quite managing to pull in a group of avid fans, and letting the crowd instead, stand back and listen.
Telegram
are a black, leather clad group of motorik favourers. Their song, 'Follow', is a standout and harks to a sort of Television related era.
Public Access TV
, who happen to be performing just before a secret set dealt by Peace, lack any kind of vigour to uproot the atmosphere to something palpable enough for one of the biggest indie bands of 2013 to take to a stage.
Finalising the night,
Fat White Family's
dirty brand of unpinnable rock reaches a disgustingly epic climax. Fat White Family are great because they quite simply, don't give a fuck. Earlier on in the day the band were seen walking through Brighton's otherwise tame streets, swearing and gesturing wanker signs at passers-by before hopping onto the back of a van. They're a band designed to put you on edge and send a shiver down the spine and not in a Whitney Houston high note hitting way either.
Saturday 10th May
Girl Band
are a band that look nothing like a band, or a girl band even for that matter. They look like four regular guys off the street, handpicked to stand with a certain instrument in their hand or behind a microphone. This is all nicely made up for by lead singer Dara Kiely's stunning urgency as a frontman. There's some sort of salient quality about him that makes you look up and take notice. For a start, his vocals are great. The grunge thing undersells them really. He throws himself full, gale force wind into the music and doesn't hold back. Eyes closed and fists clenched, everybody can't tear their eyes away from a band who have left behind a brilliantly filthy mess by the time they leave the stage.
Over at Coalition, DIY punk rockers
White Lung
are desperately trying to slip between that hybrid that defined Hole and play with that genre called Riot Grrll. Unfortunately, neither of these work very well. Frontwoman, Mish Way comes across as too try hard to be taken seriously and none of their songs have a lasting edge to at least put them on the musical map. It's a shame because there are echoes of Siouxsie and The Banshee's style and kicking 80's girl guitar groups that could be played real nicely if only they toned down their image.
MO
is a stunningly good. Her cover of Spice Girl's 'Say You'll Be There' is second to none. 'Say You'll Be There' is a timeless pop song in itself and MO uses all the right tools to turn it around into a fresh, modern piece of slickness with a well-produced, trip-hop edge. Distinctive enough without appearing too fetishized or brash, her boldness isn't unseen in the pop industry amongst females but it's a lot more believable and enjoyable to watch than any others. Hauling herself into the crowd, numerous times alongside a tribal style crowd surf with vocals never falling, MO is only destined to soar.
To top the weekend,
Clean Bandit
play to a packed out room in the East Wing. Dance music is more marketable than ever now and whilst the charts may be littered with instantly forgettable, one off dance hits, it seems unlikely that Clean Bandit will fade out. 'Rather Be' and 'Mozart's House' has allowed them access to the gateway of mainstream music and have managed to impressively filter in elements of classical music which pays off in their live show. Grace Chatto and Milan Neil Amin-Smith take to the forefront of the stage with cello and violin in hands but still whip the crowd into a frenzy just as much as the lead vocalists. It's the perfect, euphoric ending to a hectic, fast-paced weekend.