The Ghost of a Saber Tooth Tiger @ Hare and Hounds, Birmingham 01.09.14
A tight, juicy and psychedelic sound from Ghost of a Saber Tooth Tiger and Sean Lennon at ease
Sep 1st, 2014 at Hare and Hounds, Birmingham / By
Ian Stanley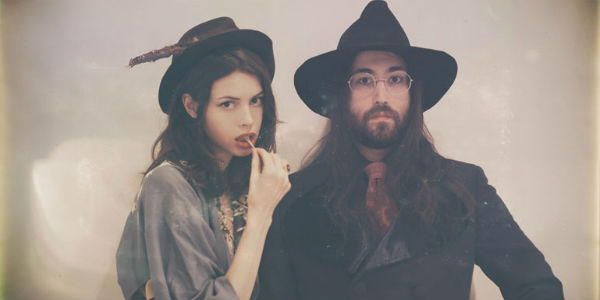 Ghost of a Saber Tooth Tiger
hit Birmingham at just the right moment. Moseley Folk Festival had just finished the day before. And for one extra night, with a set full of the heavily psychedelic songs from latest album
Midnight Sun
, Sean Lennon gave a home to festival goers craving one last hit from the boho pipe. While this set has borrowed elements from the litany of people Sean Lennon has collaborated, jammed or had over for tea in his 38 years on this planet, his biggest influences appear to be music's most recent wave of psychedelic acts and his girlfriend and bandmate Charlotte Kemp Muhl.
But first up – and fresh from Moseley Folk Festival – piss me, it's an English Alela Diane. For someone who was only told a couple of hours previously that she was going to support GOASTT,
Katharine Priddy
is seemingly more than merely calm performing with just herself and an acoustic guitar.
Priddy is like a mournful folk cameo picked up from last night's drinking in the woods. Every sound is smooth and chord progressions and vocal slides knit together gently. Such is the fresh, clean nature of her vocal that in not wanting to sully the atmosphere, most people are too scared to make any sudden moves. There are a couple of fidgets made to put an arm carefully, or nervously, around someone. But a few original songs about Heathcliffe, lost loves and a stunning Jefferson Airplane cover are all we're getting out of this nugget from Brighton tonight.
For now it's time for the impossibly gorgeous, yet pleasingly not vacuous people of
GOASTT
to take to the stage. From the off every single song is well synched and the bends in notes jump up from a sea of psychedelic swells. The sound levels are thick and deep with a psychedelic 70s sound ripped from touring from Tame Impala. But there is a slightly, and carefully disjointed feel to the music.
This is juicy music and Sean Lennon leads the band with wags of his finger, letting co-founder and long term girlfriend Charlotte Kemp Muhl take a much more reserved place in the shadows. Every song works well in the rabbit warren rooms of the Hare and Hounds. 'Too Deep', 'Xanadu' and 'Midnight Sun' groove solidly throughout their minutes and add to the swell of darkened sound.
With all the superstar influencers at his doorstep it's good to see that Lennon has been able to take a route that's warmly concentrated to one genre, rather than being confused with others. During the years of disappearing into the music ether to discover music anonymously he appears to have found where his space is going to be.
Having worked with artists as wide as Handsome Boy Modelling School, Jurassic 5, The Strokes and Moby to name a few, this could be one confused soupy mess, but it has its structure with juicy psychedelic grooves and the odd ramshackle element. The only reminder of his famous father creeps in through a familiar sounding vocal. It's easy to see the ease on stage that he has with the biggest influence on his latest work with GOASTT, or at least the improving consistency and regularity of output (two albums in four years is pretty good considering Lennon's track record of four or five full albums in a 16 year music career). As finishing the set Kemp Muhl pipes up from the shadows with, "I don't approve of encores" Sean's reply is "She doesn't approve of many things". This set feels settled and while swelling with sound, at comfort and at ease.
Ghost of a Saber Tooth Tiger Links