The Entire City @ Sound Basement, Liverpool 29.06.18
The Liverpool alt. rock duo launch their new single Cruel with a superlative, sold out gig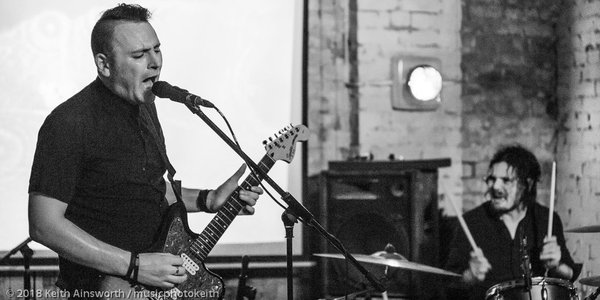 Descending into the sweltering, full capacity live room below stairs in city centre watering hole Sound, the vast majority of the crowd is assembled ahead of time for headliners alt. rock duo
The Entire City
.
An impressive feat given that the band are only three gigs old and this is only their second hometown show in Liverpool, the event is taking place to launch blistering debut track
Cruel
. Taking the heads down no nonsense boogie approach to proceedings, the pair open the set at 10pm sharp with On Fire and scarcely let up til the dying notes ring out.
Backed by a series of swirling back projections, the duo work in near-telepathic fashion. Shifting through variations in tempo and volume without either player having to signal to the other what comes next, the expansive almost shoegaze-style rush of The Nightmare gives way to a crashing take on Grey Garden (named after the famed Maysles Brothers
documentary
?)
Singer/guitarist Jamie, running sidewinding riffs through bass and guitar amps simultaneously pushes the set forwards in commanding fashion while to his left tub thumper Jams, a constantly in motion mass of drumsticks and flailing hair, keeps everything unfailingly on course.
'The reason we're all here', as singer Jamie puts it is played late on, as Cruel's already brief running time is condensed even further, morphing into a pulversing live rendition that approaches Husker Du-like levels of intensity. For the finale an extended run through The Cure-esque You Are Not the Sun has the air of a track that could be expanded on to greater lengths as the pair find new paths for the song to take.
Just under thirty minutes after taking the stage things wind to a close and the prospect of fresh air and cooler temperatures in the upstairs bar beckon. An excellent showcase of The Entire City's development so far, with a score of new converts on board, where they go from here will be well worth keeping a close eye on.
Photo credit: Keith Ainsworth