The Dangerous Summer @ The Borderline, London 02.12.13
The Borderline, just off Tottenham Court Road, is one of those quintessential London venues we all know and love: dark, hot and just on the right side of cramped. Before main support Verses come on stage, the air is thick with a good ratio of sweat and music. The beer is flowing and the road crew are doing their fair share of lifting and heaving equipment into place. Verses deliver a tight and lively set, rife with Lower Than Atlantis vibes and endearing energy. Look out for these lads; it's about to go off.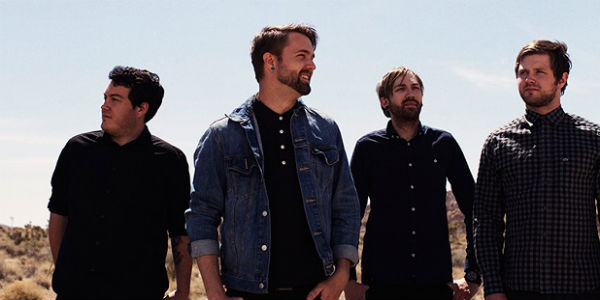 Unfortunately the dulcet tones of Verses somehow couldn't liven up a lacklustre audience eager to catch The Dangerous Summer, whose prolific and frenetic touring schedule is taking them on the coveted Vans Warped Tour later next month.
The Dangerous Summer
are one of those bands that have such a good time on stage that you can't help but get caught up in their infectious enthusiasm and exuberance. This band love what they do; it's obvious through their onstage demeanour, their fantastically sweary frontman (the zealous AJ Perdomo) and their betraying looks of sheer delight as they finally instill their own liveliness into a stubborn audience; finally the glasses are down and the hands are up (hell, they even start to
sing!
).
The band roared through a set just rehearsed enough to be as organic and spontaneous as if they hadn't practiced at all – a sure sign that they know their songs back to front. In particular, 'Where I Want to Be' was the tightest and best-performed song of the set, and by this point (which was still remarkably early on) the show was in full swing and the audience in straight up dance mode.
The Dangerous Summer have honed their craft and stage presence with formidable vitality and verve, careening through anthem after anthem, and while 'Where I Want to Be' may have been the most simplistically dazzling performance of the evening, 'Catholic Girls', the first single from their most recent effort
The Golden Record
, was probably the most enjoyable few minutes of live music we've seen in a while. All this is made all the better by the Borderline's incredible sound, and the effort put into making sure all three bands sounded perfect was astounding.
Perhaps all that is missing from this band's straight-up, no-nonsense approach to their craft is the absence of a real, unmistakable uniqueness – they borrow stylistically and lyrically from a myriad of contemporaries (Something Corporate and Taking Back Sunday spring to mind), nowhere near enough to be considered a mere emulation of these outfits' seminal style, but certainly closes in on muffling what could be something more...characterful.
All in all, The Dangerous Summer have proven once again that they can play a blistering set of anthemic and infectious numbers, thankfully devoid of any over-the-top showboating or gimmicks, and rife with an energy and degree of professionalism rarely seen in a band far shy of ten years old... let's just ignore the sheer amount of atomic F-bombs, shall we?
The Dangerous Summer Links