The Computers @ Fleece & Firkin, Bristol 18.02.11
Exeter rock 'n' roll slash punk band The Computers cropped up in some interesting places last year, from sharing a stage with Super Furry Animals' Gruff Rhys at the Artrocker awards to some out-of-place plays on the Scott Mills show on Radio 1. Thankfully, 2012 sees them find a natural home on the Pulled Apart by Horses tour.
Feb 18th, 2012 at Fleece & Firkin, Bristol / By
Andy Price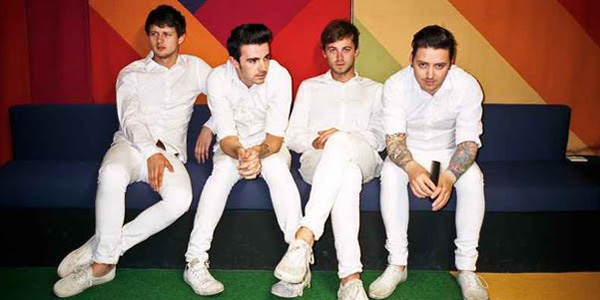 As the main (and only) support for the show in Bristol for this particular evening
The Computers
were tasked with working up the crowd – not easy when the venue is bursting – there's no room to move and rumours are that the show has been oversold and over-guestlisted.
Pulled Apart has been touted as one of the UK's best live bands (well, by The Observer), so there's much more than just a lot to live up to here. However, the show is a step up for the band, having released
This Is the Computers
last year, they made a solid impact with their brand of 50s rock 'n' roll, mixed with modern hardcore and punk connotation, but it's the relentless touring that is helping the band grind out a reputation and some best live band nods themselves (nominated in the AIM Independent Music Awards 2011). So it's with the backing of the bigger band that the band has graduated on a local scale from small-small venue, to big-small venue.
Taking to the stage, dressed head to foot in white shirts and trousers, well manicured and greasy throwback quiffs among the majority of the ensemble, fall instantly and irreversibly out of place as they scream straight into opening song 'Where Do I Fit In'.
It's very obvious that this band has carved itself out a look - but their four-stringer has received the wrong memo. A questionable moustache makes any child-rearing adults in the audience more and more nervous, the hotter (and sweatier) it gets. Apparently, a paedo-tash is for life, not just for Movember. A couple of years ago, singer Alex Kershaw was still running around the backroom of The Croft (local small-small venue) on the back of local gig legend Big Jeff (big hair, big personality, big... Jeff) while guitar dangles dangerously over shoulders – back then it was a well-worn black shirt that featured, my how times have changed. Or not, Big Jeff is here again – Kershaw, the definition of punk rock 'n' roll frontman, if it dared had one, knowing his way around a Bristol crowd simply says: "Do what Jeff does" before launching into another number; no time for a stop and chat.
The five-some (a new keyboardist increases the numbers since their last live show round 'ere) follow the repeat of the title's chant from aforementioned opener with some serious voracity. The crowd still struggles to provide their full attention though - it's too early for onlookers to get involved. Though the place is already nearly full, there's still too many comings and goings to settle in to the show. But it doesn't last long, the sheer energy and noise that comes from big numbers 'Group Identity' and 'Music Is Dead', coupled with the screaming growl of Kershaw gives the crowd no damn choice but to listen.
Once the right to silence has been fully reclaimed, the audience becomes a little more responsive. Ploughing through a couple more notable numbers, including the band's throwaway cover of 'Surfin' Bird', it becomes more obvious (despite the cover) that there couldn't be a more perfect choice for the Pulled Apart support. Though the bigger band plays a more mainstream, but contemporary brand of hardcore, The Computers have their style, and a bite that is entirely different.
The Computers are going to pick up a lot of new fans on this tour – fully deserved. A quick chat with Kershaw after the show reveals that he considers the performance a bad one, and that he wasn't quite feeling it on this occasion. But if this is a bad Computers show, then the Bristol crowd needs to be incredibly envious of the remaining audiences on the tour.
This band deserves exposure, and they're getting it – they're getting dangerously close, and it's only a matter of time until they take that best UK live band title.
Can somebody give The Observer a bell?