The Chapman Family @ The Shipping Forecast, Liverpool 26.06.12
Irascible North-Eastern quintet on scintillating live form
Jun 26th, 2012 at The Shipping Forecast, Liverpool / By
Richard Lewis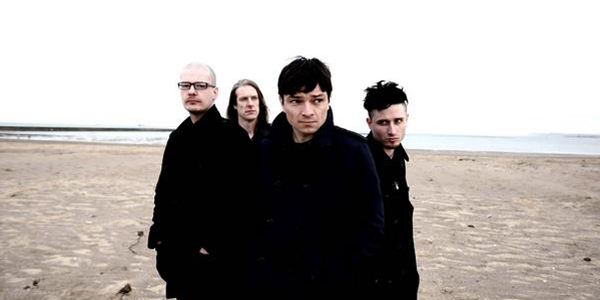 Prior to The Chapman Family's headline slot below-ground gig parlour The Hold at the 'Forecast sees
Get Back Colquitt
take to the stage.
Currently in the ascendant locally, the quartet possess a fiercer sound live than on record and benefit from a searing mix that cranks the guitars up to showcase their wiry Two Door Cinema Club-influenced tracks to excellent effect.
Up next the jagged post-punk of
The Temps
is well-received, their opaque tracks led by brutal Keith Levene influenced guitar. While largely avoiding straight-up melodicism, their tunes find a way of lodging themselves in the memory, their frontman frequently burying his head in his hands between bursts of vocals overcome with some unspecified angst adding to their intriguing stage presence.
Striding on stage through a cloud of smoke,
The Chapman Family
following a huge tuning up din, charge headlong into the set.
Underpinned by a double-pronged axe barrage, each sonic salvo bounces from the low, red-lit stage to be swallowed up by the subterranean darkness.
The endlessly repeated notion that last year's debut LP
Burn Your Town
was a tad too long in the making to capitalize on the buzz the band initially received is rendered void as excellent new EP
Cruel Britannia
indicates the 'Family are only just getting started.
The title track, the sound of The Jesus & Mary Chain stuck in a wind tunnel is a highpoint, the gloriously scabrous guitars cutting a swathe through the bilious lyrics, the 'red, white, black and blue' chant that closes the song naggingly effective.
'No More Tears' led by an irascible fuzz-toned bassline and stinging guitar arpeggio is dispensed with furious glee, the terrace-chant backing vocals off-set by lead singer Kingsley's Morrissey-esque croon.
As the band determinedly thrash away, the frontman's shadowy baritone and brooding stage presence, frequently breaking out into dramatic, stage actor-like flourishes makes for compelling viewing.
The venomous 'Summer Song' combining filthy Krist Novoselic basslines with glacial Joy Division keyboards serves as a perfect anthem for the none more grim season the UK is currently experiencing.
Keeping the tunes well within earshot while simultaneously making sure the dB meter stays firmly pinned in the red, each track is drop kicked full force from the stage.
Concluding after a judicious 45 minutes of exhilarating ultravolume, the 'Family have successfully won over more potential cult members.