The Brian Jonestown Massacre @ Shepherd's Bush Empire, London 07.07.12
First UK show in 2 years for San Francisco's ever-transient psychrock mentalists.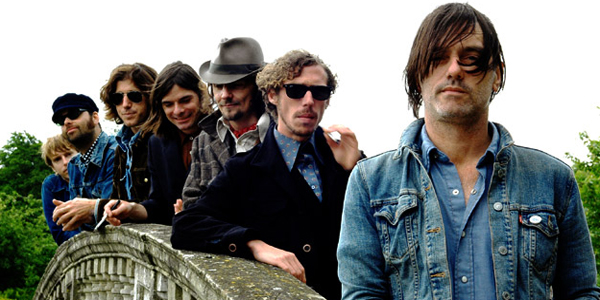 It's a damp mild night outside the Empire and the touts are having a field day auctioning off the only remaining tickets for a concert that sold out weeks ago. Frantic hipsters flit about attempting to source a ticket they can afford without having to re-mortgage their Brogues, while those in the queue find inventive places to conceal whatever it is that someone needs to conceal before the obligatory security bag check.
Once inside, the monumental wait for a pint at the bar allows a chance to reflect on the career of
The Brian Jonestown Massacre
; Founded in 1990's San Francisco, the band produce their own take on the sixties west coast sound by warping it around twisted lyrics, swirling soundscapes, and a not insignificant amount of unbalanced social skills. While, perhaps, most publicly known for their not entirely positive portrayal in the critically acclaimed 2004 documentary
Dig!
it is clear that, amongst the mass of fringes, suit jackets and paisley that make up the BJM fan base, there are old hippies, fathers and sons, young couples and students who have grown up with and grown into BJM on an emotional level that few bands achieve.
The crowd noise swells significantly, giving Bearded its cue to abandon any hope of getting a pint before the show begins, and band leader Anton Newcombe slouches across the stage to his guitar, making final microphone adjustments as the remaining seven members find their places. Opening with 'Stairway To The Best Party' from their latest and much-lauded album
Aufheben
the sound is immediately huge and warm, pulsing through the audience. There is fatness to the live sound that is absent on studio recordings; introspective and restrained pieces such as 'I Want To Hold Your Other Hand' become self-assured and anthemic, the light pop of 'Oh Lord' becomes punkier, 'Servo' develops a heavy Velvet Underground-esque drone.
Fundamental to this live sound is the current BJM line-up (the 19th incarnation – Newcombe is the only constant), a vast wall of sound is constructed by four big old arch-top electric guitars all clattering through Fender amplifiers, bolstered by warm bass and synth tones that are fixed in place with solid drums and percussion. The sound created is at once uplifting, embracing and (of course) mind-expanding, despite their turbulent past the group groove together as musicians who don't just
get
the music, but
get
each other. Once in motion the set continues to gain a hypnotic momentum as songs bleed into each other, punctuated by fan favourites like 'Anemone' and 'Not if You Were The Last Dandy' with the volume gaining a brutal intensity as the set develops.
Reaching what will be the show's final half hour Newcombe deigns to live up to his reputation for bizzaro behaviour and has a brief but tense meltdown at guitarist Matt Hollywood for playing the intro to '(David Bowie I Love You) Since I Was Six' either too fast, too slow or too something. The rest of the band appears unfazed but it's a surprising passage considering the cohesive atmosphere on stage and serves as a reminder that, no matter how things appear, the BJM camp will always be an unsettled place.
Perhaps that is why
The Brian Jonestown Massacre
are as exciting and as relevant now as they ever have been.
The Brian Jonestown Massacre Links