The Big Chill - Day 3 + 4
The second half of The Big Chill as experienced by Frank Kruyer...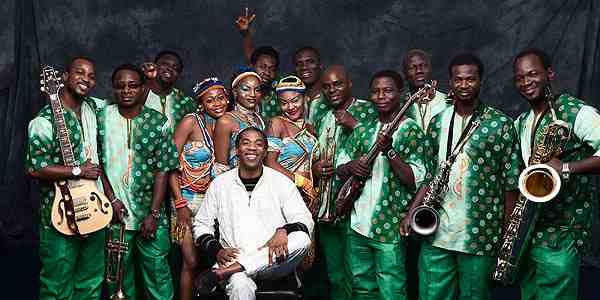 Saturday
The Knocks
and
Crystal Fighters
are listened to in passing from the Deer Park stage as Saturday morning calls for time to be spent at Mr. Scruff's tea tent, the perfect place to relax, recharge and enjoy Scruff's very own tea blends (the mint and chilli is a fantastic brew).
The Bullits (feat. Jay Electronica, Lucy Liu and Idris Elba)
open their set on the Deer Park stage with a Tarintino-esque monologue. On record, The Bullits are an exciting progressive sounding hip-hop era collective, live their performance lacked clarity. Lucy Liu's spoken word on 'Close Your Eyes' seems lost within the sound, new single 'Landspeeder' is anthemic in nature, if not a touch repetitive with its 'Bloody Sunday' like sounding guitar riff which is permitted to ring out from start to finish. The set is barely three songs in and it has become clear that Jeymes Samuel is struggling with his voice, the air is thick and humid this Saturday morning which can only be exaggerating the problem. The lack of a strong lead vocal lessens The Bullits impact, Jeymes tirelessly attempts to keep the momentum but set withers in a somewhat disappointing fashion.
Long serving UK hip-hop stalwart
Jehst
must not be well known in these parts, as he strides out on stage only to see a rather empty People's Ear tent before him. With two MC's and one DJ, Jehst is raw and keeps it old school. As he picks out gems from an extensive back catalogue, it's 'Weed' that sparks the crowd's enthusiasm. Whether those in attendance are fans of the song or the plant remains to be seen. Jehst's female backing singer who has seen been standing in the shadows for the most part glides to centre stage and becomes far more pivotal whilst performing tracks from Jehst's latest offering
The Dragon Of An Ordinary Family
(YNR). Her voice is particularly sweet during 'Timeless', could this signal a slightly soulful change of direction for Jehst? Probably not, but as the set calmly draws to a close, many a head can be seen nodding.
As the clouds clear and some sunshine briefly penetrates,
Metronomy
take those gathered around the Deer Park stage on a trip down, their debut album,
The English Riviera
(Because Music). As the clouds spit and threaten those below with another downpour, it is not the rain dampening proceedings, it is Metronomy. There are highlights; 'We Broke Free' is a sumptuous set opener, 'Everything Goes My Way' holds its dreamy essence and 'The Bay' sees the group at their boldest. But for the most part and the sound is messy and worst of all, really quite flat.
The remainder Saturday afternoon/early evening is not entirely inspiring.
Tom Middleton
manages to cram an impressive array of genres into his DJ set and
Devlin
appears to have performed what seems a ludicrously short set, but no, the whole Reveller' Stage set times have been moved forward half an hour, bad form Big Chill. An app was released to deal with such announcements, but how long does a modern Smartphone battery last whilst utilizing a 3G connection? Three hours at best? To Jessie J, well it's a family friendly fest and she does a good job at keeping the little chillers entertained.
A special mention has to be given the well documented, pure madness that is,
Kanye West
. On stage 30-40 minutes late, an extended introduction involving a troupe of ballet style dancers, who were actually quite impressive, ending slyly with the H.A.M beat from Mr. West's latest collaboration with Jay-Z 'Watch the Throne', then finally, the man himself takes to the stage. By this point many a boo and a hiss can be heard, but the haters are silenced as the Chicago rapper begins to go about his business with energy and gusto. 'Power', 'Can't Tell Me Nothing' and 'Jesus Walks' display the best sides of an extremely multifaceted performer and introspective individual. Then, soap box fever descends and Kanye has caught a bad dose, at this point apart from the hardcore gathered around the stage barrier, there is an exodus en masse. Explanations for the tirade that followed losing out to Justice for the 'Best Video' award at the 2006 MTV European Video Music Awards (seriously, does anyone still care?) are topped by the audacious statement "People treat me like Hitler". Perhaps with less ranting and more rapping, Kanye West's voice would have stood stronger for longer, but it did not. Those left to witness the rest of the set seem to be only hanging around in case anymore insanity ensues, but even their patience is pushed to its very limits as an extended arrangement of 'Runaway', with extra lashings of vocoder, seems to go on for eternity. Before the final curtain call there is still time for an Amy Winehouse tribute, preceded by oh so I'm also in the misunderstood artist's club explanation of how they met. The biggest cheer of the evening roars around the Deer Park stage as the people realize they are free of Kanye's clutches and all anyone seems to speak of is how they hope 2ManyDJ's set is not cut short.
The Soulwax men are in no mood to keep anyone waiting. It is all hands on deck as the stage is stripped of a backdrop of Greco-Roman statues, a huge screen is descended and a small, rather unassuming black desk holding
2ManyDJ's
tools of the trade is wheeled centre stage. The suited pair assumes the position to excited applause and waste no time in shifting up to third as they take anyone left standing through a bombastic hypnotic audio journey. Guess that tune is the name of the game as the video screen plays humorous animations of the cover art of every track that is thrown into the mix. Anyone who has experienced 2ManyDJ's will know, there really are too many tunes to mention. But after the baffling banter that came before, this kind of pure unadulterated fun is just the tonic.
Sunday
An already under capacity Big Chill is beginning to look rather sorry for itself by Sunday. Kanye West evidently brought in a large number of day trippers as tents are taken down and bags are packed throughout the campsites.
Roots reggae legends
Steel Pulse
start the day in earnest on the Deer Park stage, but they have their work cut out. Their sunshine brand of sound struggles to establish itself with a nasty cross wind and not many bodies to soak up the bass creating a nasty kind of phase effect. This of course, no fault of the band, who stay looking positive and still manage to put some smiles on tired looking faces.
The
North Mississippi Allstars Duo
, again on the main stage, give a lesson in dirty, New Orleans style, bourbon drenched southern rock. There are pentatonic solos galore and some masterful string plucking, but any kind of crowd interaction is at a premium. The vocal-less dual acoustic number is a nice reprieve but without a chorus to remember or word of encouragement from the front man, the applause is best described as polite.
There is now a dilemma to be faced, its either
DJ Derek
or
Femi Kuti & The Positive Force
, a 60 something former accountant turned master selector or the Nigerian son of afrobeat pioneer Fela Kuti and his more than accomplished band. With a vast amount of reggae and dub already sampled whilst frequenting the Big Chill's plethora of late night bars, afrobeat is the choice of the day, and it is a good choice indeed. Singer, keyboard player and saxophonist Femi Kuti leads his troop like a passionate orchestral conductor to create what is a really uplifting sound. 'Africa for Africa' is powerful recognition of the continent's continued problems and a call for hope and optimism. It is followed by a heartfelt speech and proclamation that is not giving £5 a month that will help the people of Africa, which Femi quite rightly points out possesses is wealthy with natural resources, it is the deposing of corrupt and selfish warlords and unelected governments that will lead to change. Post speech, Femi is joined on stage by Songlines publisher Paul Geoghegan to present him with the Songlines Music Award for Best Artist. Femi graciously accepts and jumps straight into a raucous encore to end a great performance.
After this rousing performance,
Warpaint
, just seem far too downbeat. Their grungy art rock is appreciated and sounds tight but the rumblings from within suggest a hunger for rhythms and so the search begins.
One doesn't have to look far to continue on the African theme as
A.J. Holmes and the Hackney Empire
boldly pronounce that they will have everyone in the Global Local tent dancing within three songs. There are only about ten people under the canvas so it's a realistic target. The band go one better, not only does everyone eventually rise to their feet, many a wanderer are intrigued by the township rhythms and by the end of the third song the tent is almost completely full. Perhaps those quietly shuffling in thought they had discovered a Paul Simon Graceland-era covers band, perhaps it's any old excuse to shake the booty? Whatever the reason, A.J. Holmes sure knows how to lead the carnival, even when the black clouds are starting to mass.
There is no questioning that Robert Plant is a living legend and many of the older members of The Big Chill audience cannot wait for him to take them back to where his musical journey began as he reprises the name of his first band, 'Band of Joy'. With his enormous wealth of experience,
Robert Plant and Band of Joy
know how to please a crowd, and seem to have every fan in the palm of their hand all set long, that's if you're a fan of course.
An anxious wait follows for the arrival of Mexican virtuoso acoustic guitar masters
Rodrigo Y Gabriela
Opening their set with a simply awesome rendition of 'Tamacum', the duo follow by playing gem after gem from 2006's
Rodigo Y Gabriela
. Rodrigo Sanchez's lead playing appears completely effortless and Gabriela Quintero's strumming/percussion hand (the beat is slapped out on various parts of the guitars body) is as blue as her unique style of play becomes mesmerizing. A completely instrumental act, the stage is void of any microphones as they are simply not needed. The set is interspersed with some brief reminders of Rodrigo and Gabriela's thrash metal roots with some distortion applied for the quick bit of shredding and the occasional word of appreciation from the duo themselves. An intense performer, Gabriela is cuteness personified as she draws a huge cheer from the crowd whilst granting them permission to 'Do crazy shit!' after announcing the following songs to be performed will be from the 2009 favourite
11:11
. 'Hora Zero' brings out the Latin flavour with its particularly flamenco feeling lead riff and towards the end of the set there is still time for one last metal memory with a unique acoustic cover of 'Orion' by Metallica. What Rodrigo Y Gabriella may lack in instrumental numbers, they more than make up for with their fusion of a vast range of musical styles and flavours and sheer, amazing complete control of their instruments of choice. Rodrigo Y Gabriella is more than simply a performance; it's an experience to behold.
More than just an assembling of eclectic artists, The Big Chill is a festival which focuses just as heavily on the experience of attending the festival, as the acts on stage. There is plenty for those of bohemian leanings to enjoy in the Enchanted Garden; the art trail is a nice touch and well worth a walk through under the cover of darkness and the numerous bars and tents that stay open long into the wee hours playing anything from dub-step and old school jungle to indie and house favourites keep the party atmosphere alive. Although all weekend the feeling that the festival experience could have been that much more if closer to full capacity hangs over like the grey clouds which passed through the sky. The weekend is so close to being a complete success, but one fears numbers will have to improve next year if the Big Chill is to continue.