The Barr Brothers @ The Slaughtered Lamb, London 02.05.12
The Barr Brothers are one of those sickeningly talented bands who can coax beautiful sounds out of anything you thrust into their hands. Depending on the song, guitars (electric and acoustic), vocals, drums, harmonica and keys are joined by one-off improvised stringed instruments, miked up bicycle wheels, Malian percussion instruments… Bearded are sure this bunch could create a symphony on biscuit barrels if you ask them nicely.
May 2nd, 2012 at The Slaughtered Lamb, London / By
Ben Wood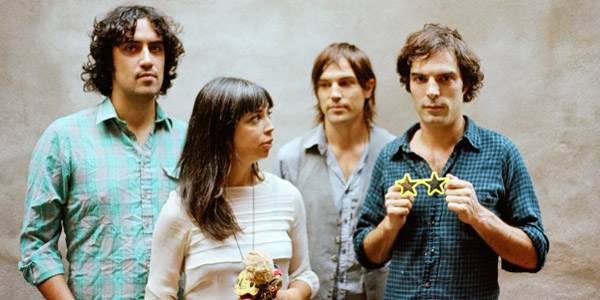 Brothers Brad (vocals, guitar, harmonica) and Andrew (drums, percussion) are joined by Andres (bass, keys, percussion) and, wondrously, Sarah on a huge unamplified harp. Together, they create a fluid, organic sound with elements of folk, country, cosmic desert blues and Malian traditional music – in every combination you can imagine.
Debut album opener 'Beggar in the Morning' starts things off in a mode of subtle intrigue over a bed of sampled and looped voices and handclap percussion. A marker has been sent down: this band isn't going to rush things; they're going to add ever-shifting textures and rhythms; and you're never quite sure which direction they will head off on next. However, you can be sure you are in safe hands.
My friend notices an affinity with Wilco's more recent albums, in the earlier songs' combination of plangent country-tinged balladry and more experimental textures. Crazy Horse-esque backing vocals, mystical sentiments, wonderfully expressive harmonica… each track brings a wealth of rewarding little moments.
For a good while, Andres stands, eyes closed, enraptured, utterly lost in the music. A suite of songs from the forthcoming second album sees harpist Sarah strap on a guitar as she, Brad and Andrew share a microphone for some exquisite harmonies, on a clutch of ethereal Bonnie 'Prince' Billy-style country-tinged tunes.
'Give the Devil Back His Heart' marries clicking African percussion to tripped-out Santana guitar as Brad enjoys his moment in the spotlight. One song sees Brad's acoustic guitar played through so many pedals that it sounds wonderfully gnarly. An encore is richly deserved, and features a quirkily playful stop/start five-minute guitar and harp duel. These guys can do showmanship as well…
The Barr Brothers
are superb musicians, and their music offers endless surprises - it's accessible and very pleasurable. In love with the possibilities of music, and the joys of sharing it with others, the Barr Brothers are a delight.