Tallies @ Kazimier Stockroom, Liverpool, 29.10.22
Canadian dream pop mavens continue their ascent in confident style
Oct 28th, 2022 at Kazimier Stock Room, Liverpool / By
Richard Lewis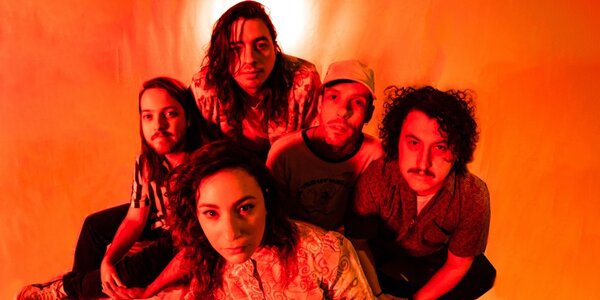 A week is a long time in politics goes the saying, we'll skip over that however, as it's monumentally depressing. Five months in pop is a long time as well, but in an entirely positive way in this case. Since their last visit to the UK in May, Canadian jangle pop doyens
Tallies
have released their superb second album
Patina
.
The finished article on record as their two albums have showcased, their already
none-too-shabby live show
has improved with the road miles logged too. Prolonged exposure to the congested joys of the UKs motorway system has given the Toronto outfit an almost tangible extra layer of confidence.
Powered by Sarah Cogan's front and centre earbalm vocals, the one-two punch of recent singles Hearts Underground and No Dreams of Fayres as set openers in the compact surroundings of the Kazimier Stockroom emphasises the group's understandable belief in their new material.
Dylan Franklin's superlative lead guitar motifs provide the sonic upholstery for the tracks, meting out Johnny Marr-esque arpeggios on Am I The Man and shimmering Cocteaus-style chord patterns on Trains And Snow. The slow rolling glide of Memento and a delicate take on Catapult underline the band's use of light and shade, stripping the music back to a bass pulse and sparing guitar interjections. A beautifully poised rendition of Special meanwhile, building from its melancholic opening chords to tumbling choruses is the summit of the set.
Accelerating as they progress, the closing stretch sees the distortion levels increase and the sound toughen up. Showcasing Cian O'Neill's precision drumwork, Easy Enough is given the full tone arm bending shoegazing treatment. A wonderfully scabrous Wound Up Tight supplies the closer, the quintet landing somewhere close to Ride's mastery of gnarly guitar textures paired with gorgeous vocal melodies.
Despite two excursions across the pond in quick succession this year, a return visit from the group can't come soon enough.