Swearin' @ the Scala, London 22.10.13
NYC and Philly based outfit win over the capital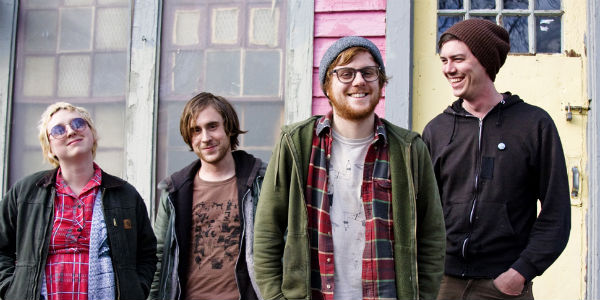 When not on tour together, the Crutchfield sisters live together in a big house in Philadelphia with most of the members of their respective bands and a few others (including Sam Cook-Parrott who has made one of 2013's well received albums under his Radiator Hospital guise).
Swearin'
guitarist Kyle Gilbride produced Katie Crutchfield's (Waxahatchee) stunning
Cerulean Salt
album (he is also producing former Best Coast-er Ali Koehlers upcoming debut with her new band Upset) and Swearin' bassist Keith Spencer will also reappear again tonight playing drums for Waxahatchee's headline set to the Scala's packed out audience.
While many of us weren't able to see the sisters play together in previous bands like The Ackleys or the much missed pop-punks P.S Eliot, seeing Allison Crutchfield and Kyle Gilbride's Swearin' playing short bursts of glorious pop-punk and indie noise before Waxahatchee's sparse, emotive songs will be more than enough compensation.
As soon as the opening chords to 'Here to Hear' flow from Kyle Gilbride's guitar and start to fill up the Scala even the small pockets of tonight's crowd who might be familiar with the band are witnessing something special. Pop-punk yes but not in the glossy Blink 182 sense of the word,
Swearin's
sound takes from the breathless excitement of Superchunk and the ragged, heart on sleeve guitars of Jawbreaker. Kyle Gilbride's voice evokes the snotty, sugar rush whine of Superchunk's Mac McCaughan complimented with the gorgeous harmonies of Allison Crutchfield whose soft, captivating vocals stop Gilbride's passionate whine from being overpowering and annoying.
New album
Surfing Strange
shows a growth in the band's songwriting, slowing things down and stopping for air. This means that in a set where 'Kenosha's' scrappy heartbreak is tempered by new single 'Dust in the Gold Sack' there is light and shade, joyous don't-give-a-shit bluster now accompanied by a newfound depth and reflection.
There are times tonight where you wish that there was a little bit more energy in their live show. With such amazing blasts of punky indie-pop the band look almost intimidated by the Scala and methodically play their set with minimal interaction with the crowd (apart from a fantastically sleeveless onesie-clad Allison Crutchfield sharing tips on fruit to Gin & Tonic ratios).
It might have been an off night (by all accounts the show the night before at the tiny Shacklewell Arms was an incendiary, sweat-drenched performance) and a small gripe considering how brilliant the band's songs are and how the glorious bounce of 'Just' and 'Young' incite small pockets of the audience into pogoing frenzies.
Throughout tonight set Katie Crutchfield stands at the side of the stage taking pictures of her best friends and her closest companion, her twin sister playing songs conceived in a modest shared house back in Philadelphia, both musicians finally living a dream that goes back to when they first made music together. It might not have happened in a band they were both part of but it's happening now and is heartwarming to see a well deserved circle of friends winning over new converts with every distorted chord.