Supersonic Festival 2011 @ Custard Factory, Birmingham 21-23.10.11
For eight years, Birmingham's Supersonic has provided a safe festival haven for those with a more alternative taste in music. For people unafraid of the avant-garde, the electronic and the extraordinarily loud, as well as those who are more than happy to try something without having heard it before, Supersonic has provided a unique experience in the UK, and built a dedicated following because of it.
Oct 21st, 2011 at The Custard Factory, Birmingham / By
Gareth Main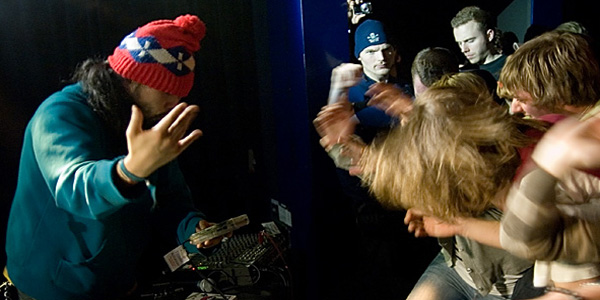 This consistently brilliant festival, expertly curated by Capsule – who seem to be keeping the city's rich musical heritage in the public consciousness almost singlehandedly – has cemented its place as the festival equivalent to John Peel, where musical discovery comes ahead of seeing your favourite band perform. Supersonic comes with a cast iron guarantee that you'll leave the Custard Factory having been blown away by an artist you'd never heard of the previous week, and it's not a surprise that it is one of the most eagerly-anticipated weekends of any year.
Such high praise then and such high standards made this year's event feel somewhat flat. The festival barely took place in the Custard Factory, having been moved without explanation to the surrounding warehouses. The central pool that was in previous years drained and covered with a marquee was decidedly full of water, and with it the festival lost a key focal point, leaving it without a real heart, and the previous second stage now the main stage. Without that, the festival felt like it had short-changed itself and downsized significantly.
On the musical side of things, the festival required an incredible Sunday foursome of
Silver Apples, Alva Noto, White Hills
and the utterly mad glam rock of tight-trouser clad Finns
Circle
to maintain that blown-away feeling. Sunday night headliners
Turbonegro
failed to ignite anyone other than the twenty or so denim-sporting fans at the front, poignantly symbolising a festival that was on a bit of an off year compared to its previous outings.
Elsewhere, a fire alarm failed to prevent Shigeru Isihara from high praise as
DJ Scotch Egg
on the opening night. After being the highlight of Supersonic 2010 for many with his Devilman project, he was back for two sets this year, the second of which with 2009 favourites
Drum Eyes
, who are nothing short of exceptional every time they perform.
Indeed, the festival wasn't short of excellent performances:
Teeth of the Sea, The Berg Sans Nipple, Backwards, Pharaoh Overlord, iconAclass, Cut Hands, Electric Wizard, Bardo Pond
and
Wolves in the Throne Room
all stand up to positive review, and the three sets that really disappointed are both unworthy of mention and well below any respectable festival average. What was truly disappointing was the lack of focal point on a seemingly ramshackle festival site, and the lack of mind-blowing headliner for a festival that has boasted headline slots from Melt-Banana, Goblin, Swans, Sunn O))) and Venetian Snares in the past two years alone.
But true to form, when you put Supersonic against any other alternative festival in the world, it more than holds its own. It is still by far and away the best music festival in the UK for those who pride themselves on experiencing new and experimental sounds. Supersonic's raison d'être in their first year was a "festival based around the theme of sonic modification." In that respect they pass, as usual, with flying colours, and with 2012 providing the tenth Supersonic Festival, the possibilities for that celebration are a mouth-watering to comprehend.