STRFKR @ Hoxton Bar and Grill, London 13.11.13
Portland quartet easily deliver the goods live but fail to make a lasting impression
Nov 13th, 2013 at Hoxton Bar and Grill, London / By
Ben Wood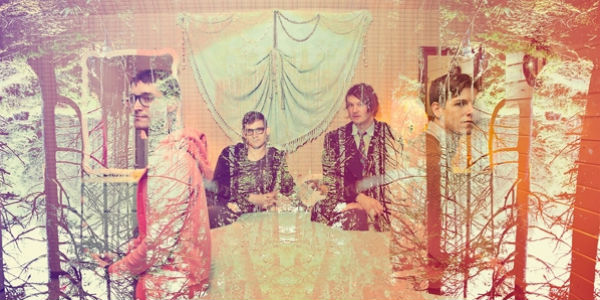 If it wasn't for their (commercially suicidal) name,
STRFKR
could be big. The geeky Portland four-piece's fourth album Miracle Mile sees them marry introspective lyrics to anthemic, synth-heavy indie-pop. Influences from disco, post-punk, dreampop and electronica coalesce into something shiny, accessible and melodically appealing.
Their better tracks are as hooky as hell, seemingly custom-made to soundtrack TV ads and goal montages. There's no indie-than-thou attitude here: these boys are aiming big, and good on them. And if there's nothing here you haven't heard before (the 80s revival has now been going on for longer than the 80s did), they do it pretty well.
Live,
STRFKR
make an uplifting sound and no mistake. An ace drummer keeps a whooshy disco beat going for much of the time, while guitar, bass and synths lock together in a pleasingly New Order-esque manner on the mellower numbers; and aim for pummelling ravey crescendos on the more uptempo tunes (which, live, is most of them).
There's been no mention of the singer yet... and there's a reason for that. On record, founder member Joshua Hodges has an anonymous but serviceable voice. Live, it is buried in the music much of the time. As much of the album is filled with strong vocal melodies, this is a shame. But he seems to lack the ego to command the stage like a decent frontman should.
The music does a good job of compensating. The guitarist plays some killer choppy Nile Rodgers riffs, and the occasional detour into guitar-heavy freak-out territory is a welcome change of pace from the band's thumping, anthemic default mode. More wig-outs would have been a good idea, but the energy level remains high as sparkly synth riff follows pumping beat, the road-hardened band locked into a tight, euphoric groove.
The packed room goes batshit - although, revealingly, the biggest reaction of the night comes when the band covers Cyndi Lauper's 80s pop classic 'Girls Just Wanna Have Fun'! Standout tracks include funky album opener 'While I'm Alive' and the super-catchy 'Atlantis'. The band seems genuinely chuffed when the crowd demands they return for two encores. They even high-five much of the front-row. Bless'em... this unashamed enthusiasm is a refreshing change from many bands' 'too cool for school' mentality.
However, it's a strange gig. On one level, the band kills it. The crowd loves them, as the disco button gets pressed until the atmosphere is more akin to a rave than a gig. No mean achievement on a chilly midweek November night. But the more you look at STRFKR, the more insubstantial they appear... like a blurry facsimile of a band, or something put together by a focus group. Their tracks are full of hooks, and well-played by a bunch of nice, enthusiastic chaps. But there aren't really any songs, as such, and not a single lyric sticks in
Bearded's
head.
A really good live band, and strangely forgettable at the same time. Go figure...