Slow Club @ The Cockpit, Leeds 29.05.10
Having released their album 'Yeah So' earlier this year, Slow Club seemed to Bearded like a band who would play a calming, airy-fairy acoustic gig punctuated with little other than song announcements.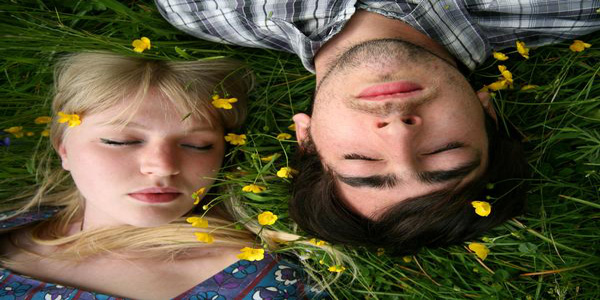 However, this was not the case and the spunky young duo from Sheffield provided an energetic and powerful performance filled in with jokes and improvisation. Despite multiple problems throughout the gig they pushed through and proved their value with a magical (a hard adjective to say without gagging but necessary nonetheless) night for everyone present.
Starting from the back of the venue, Slow Club kicked things off by winding their way around audience members whilst softly strumming guitars. Once they had found their way to the front and the audience had shuffled about to give them space, the pair started singing and we were transported from the dingy hall that was our current location to a clearing in some make-believe woodland area populated by toadstools and ancient trees. For their second song, Slow Club clambered onto the stage and proved that, whilst they might be a bit 'fairy tale' at times, they know how to inject a song with a serious kick too.
The gig went on without a hitch until about halfway through and the build-up to their scorching and strangely morbid track
'Because we're Dead'
. All of a sudden the microphone on the kick drum stopped working and, when they stopped to try and fix it, the guitar started making strange distorted sounds like an unintentional
'Metal Machine Music'
. The pair looked down at what must have been a fairly disappointed looking crowd and, almost without hesitation, came up with a fantastic solution. Before we even knew what was happening, the two of them had donned acoustic guitars and were now sitting on an extended, gnarled tree branch, looking down on the woodland clearing and strumming softly and acoustically once again. They started singing, the audience fell into silence and a beautiful musical moment followed with the fantastic track
'I Was Unconscious, It Was A Dream'
. Once they were finished, they both plugged back in and managed to dive back in exactly where they had left off halfway through
'Because We're Dead'
, leaving the audience exhausted from an ever-changing emotional overload.
Unfortunately for the band, the gig continued to be hampered by technical problems but this only led to an unpredictable but always brilliant improvised set which the audience was entirely grateful for. Slow Club did everything right on this night and seared an image of themselves onto our minds that will always be connected with an atmosphere of what can only be described as pure magic.