'Silent Bells' Tour @ Leftbank Centre, Leeds 17.11.12
"This is Holy Ground", sang the lead singer of Glissando, but this was evident from the moment we walked into the building. The 'Silent Bells' tour set up by Richard Knox (a.k.a. Gizeh Records, a.k.a. uncredited genius) was, in this instance, set in a barren and freezing church, in which it seemed there needed no explanation that this would be a deeply spiritual experience. And they were serving tea at the bar!
Nov 17th, 2012 at Leftbank Centre, Leeds / By
Jack Sibley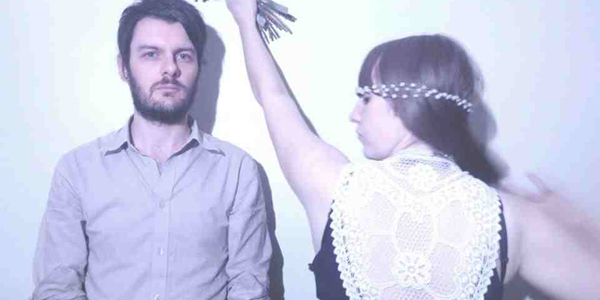 The Rustle Of The Stars
began. We floated into sparsely populated space, surrounded by the suggestions of matter. There were small abrasions as frequently used bows made their infrequent initial attacks on almost every material present; cool wind breezed past our ears or a sudden rush of autumn leaves cocooned us. As we soared, a harp pinched flashes of stars that would often shoot across the circumference of our expanded vision to be echoed by a singing bowl, offering the shimmerings of a singularity. Abstract but pure voices entered consciousness, never in fear or anguish but in something akin to hope, centred on an observation of beauty in the unintelligible darkness. Between these experiences there was applause before we hung in reverent, anticipatory silence. For no dubious motives, removing the humanity from sound was the key theme here and one that was an exposition ready for contrast.
Having returned to Earth,
Fieldhead
were in no rush to take us anywhere else. Consistently stating a primary influence as geography, this is stuff made from icebergs, boulders, mountains - the highest heights and the deepest depths. The rough edges of Fieldhead's music are what makes it Earthbound and even tactile. The full, occasional and omnipotent bass notes were the glacial chasms - were the slow movements of icebergs through mighty oceans - that exemplify the lands that Fieldhead finds his home; crackles and clicks scraped sharp ice and rough turf over our skin, adding fine detail to the deeply sublime landscapes he created. The interesting contrast between Fieldhead and his predecessor was that these were photos or, when tactile, sculptures. Where 'The Rustle Of The Stars' contained, in varying degrees, the development necessary for immersive, out-of-body experience, this focused on a distinctly human element of observation which created a theme eventually proven essential to the overall broadness encompassed.
Our final pleasure were
Glissando
(pictured). Performing material from their new album
The World Without Us
(presumably based on the Alan Weisman book of the same name), their pieces were the resolving recapitulation as they retrospectively transformed the night into a modern sonata in three movements. Successfully combining apocalyptic and rejuvenatory themes, a unique series of lengthily-developed songs spoke of our fragile place in incomprehensible space. Defiantly pure and human vocals made efforts to observe and record the abstractions within the beating bass of the tom and the reverberations of sound that echoed out to the unknown. The still tangible separation of human and ethereal - even meta-physical - elements of the music carried no suggestion of evil in humanity but, contrarily, a recognition of our insignificance and the realisation of the beauty in that fact.
People talk about intimacy at gigs but, by the end of this night, the graciousness of these artists combined with the perfect facilitation of the venue made this feel like the natural home of Silent Bells into which we had been warmly welcomed. Silent Bells, in its three stages, refreshingly reminded us that we are not bad or unnecessary, just that we are a divine coincidence; we are, perhaps, limited in our capabilities, but we are irreconcilably connected to a great power. Silent Bells shone a powerful light on that connection.
As a final note, in the book 'A World Without Us', it is suggested that music will be the last remnant of humanity to survive but, in the final silence that will eventually pervade, I know that its experiences like this that will last eternally.