Sigur Rós @ Capital FM Arena, Nottingham 19.11.13
Iceland's finest gave a predictably epic performance with explosions of light and cinematography as vast and picturesque as the images their music conjures – and it was all so very polite.
Nov 19th, 2013 at Capital FM Arena, Nottingham / By
Ian Stanley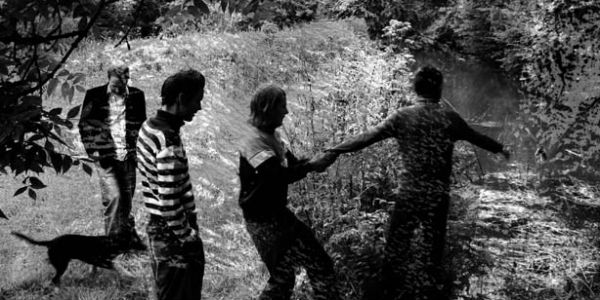 Over the years
Sigur Rós
have created albums of famously nonsensical lyrics (no, it doesn't stop people singing along), a cinematic album and been good enough to get away with stuff that most bands would be instantly and globally labelled pretentious for (every song on the album
()
is untitled). This performance at Nottingham's Capital FM Arena brought it all together in one epic experience that swelled to fill the hollow arena.
Sigur Rós's massive production, ambitious cinematography and lighting was all put into action for this gig. The stage was set up with some kind of 40 watt light bulb on the end of spikes jutting out of the ground. The dimness of those bulbs looked like the lights of deep sea fish amongst the searchlights panning over the crowd and exploding with the most crashing moments of music and raging waves of distortion from the guitar of Jonsi, Sigur Rós's lead singer.
The continuous video playing out behind the band gave a visual element to the ethereal, other worldly sound that has become synonymous with Sigur Rós. There was wildlife, landscapes and at one point the Northern Lights; not unexpected scenes for Sigur Rós's music, and it wouldn't have given anyone a fresh perspective to the songs, but this visual aspect added to the already heavy layers of atmosphere built for the gig through the lighting, stage design and music.
Progressions between every track were like movements between scores. To appreciate the scale of what was coming from the stage it felt as if there was really no need to know any of the songs. Each track merged into the other with the distinctive minutes of 'Hoppipolla,' 'Brennisteinn' and 'Saeglopur' coming up for air above the ocean of sound. Which was when some sections of the audience could be heard singing to themselves. However, there were moments when by breaking into songs like a traditional indie band Sigur Rós jolted the crowd out of their largely stagnant appreciative listening for moment or two.
Despite the hefty production and sound filling almost every crevice in the arena there were still times when Sigur Rós felt very separate from the crowd. Everything that came from the band had to get past six feet of stage and then some before reaching its intended target. This was unfortunate as so many people's best or first experience of Sigur Rós has been very intimate; either lying last thing at night, or at a friendly gathering where it's on because someone has recently got addicted to it.
The crowd were very well versed on each song and politely applauded and whooped. In fact, everyone seems so polite and appreciative it ends up feeling like a night at a classical music concert, so there's no surprise when Sigur Rós's massive ensemble bows as one to finish.
A Sigur Rós concert shows they are one of the most ambitious bands around today. Everything is planned down to the last note, or twitch of lighting and nothing goes wrong. It is a spectacular set that is as much a cinematic experience as a musical one – I've never seen anyone jam over something like a BBC wildlife documentary – but if they could find a way to pull in their audience closer for the intimacy that so many have with the record then it would take this to another world.