She Keeps Bees @ The Harley, Sheffield 17.11.14
She Keeps Bees seduced a subdued crowd at The Harley in Sheffield with soulful vocals, raw garage blues and comments like "Who pissed in her cheerios?"
Dec 17th, 2014 at The Harley, Sheffield / By
Ian Stanley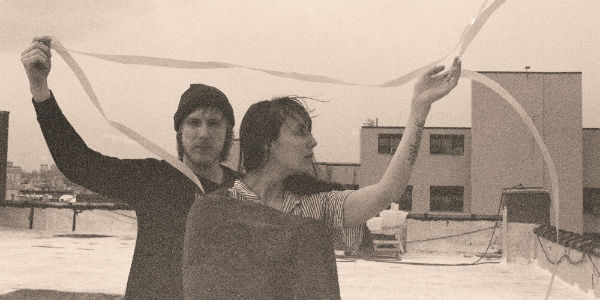 She Keeps Bees
haven't quite made a massive impression on the UK music scene yet. They've stayed largely under the radar until now, but that's not to say they aren't worthy of the acclaim they've been receiving. Or the two hour drive it takes me to get to The Harley in Sheffield where the band is playing.
The venue is small but far from full when the first notes bubble out. There's a stuttered soundcheck start. Then The Harley, with its velvet red curtains and plywood faux-posh, braces itself for the garage blues which is going to come at it like an enraged bull.
Starting with quieter, more subdued songs that ease a quiet crowd in, most of the set comes from recently released album
Eight Houses
. When 'Both Sides' kicks in the hollering, beating lynchpin of She Keeps Bees – Jess Larrabee's vocal – has a chance to fully stretch itself. Everything becomes heavier. It's blues. It's dirty. It's garage. And there's a strand of hair running down the side of Larrabee's face that goes renegade and starts flailing with every thumping, bashing note.
The Harley begins to fill from the back. Larrabee jokes that those who may have stumbled unexpectedly upon tonight may ask, "Who pissed in her Cheerios?" due to the volume pumping from the stage. As Larrabee herself, has described in a previous interview, "I sing until my stomach hurts while Andy beats the shit out the drums."
Though not massively different in sound from the album, each song is given added power. And there's some great anecdotes between songs about suffering from onion breath and "Sometimes I cried so much that my eyes started to bleed. I was like" Larrabee stares off into the distance "is that a chilli flake? No. Wait. That's blood." Intense.
While the anecdotes and comments between songs warm the audience to the band, it's the vocals and the heavier songs which really steal the show. With those on their side She Keeps Bees dig deeper and gouge out more emotion than others. As Sharon Van Etton once said, "she (Larrabee) has one of the best voices I have ever heard and she has more soul in one finger than most female singers have in our scene." And that loose strand of hair just keeps going mental - especially with one of the final songs 'Gimmie', one of the few from the album
Nests
.
She Keeps Bees leave the stage. Just Larrabee returns for a solo encore of 'CageMatch' from early album
Minisink Hotel
. Hollow, bright chords ring with her voice. This is cut down to her and a couple of rough powerchords on a Stratocaster. Then to strip it down even more, Andy LaPlant sets himself back behind the drums for the a cappella song 'Ribbon.' The audience is left with She Keeps Bees final act being to clap to the beat in the vocal and drums.
If someone had pissed in her Cheerios and this passionate, raw and hollering performance is the result. I'm glad someone did.