Seabear @ the Garage, London 17.05.10
For such a small nation, Iceland has been musically punching above its weight for some time now. Defying the latest ash cloud from the mother country, Seabear dished out more transcendental folky loveliness
May 18th, 2010 at The Garage / By
Ben Wood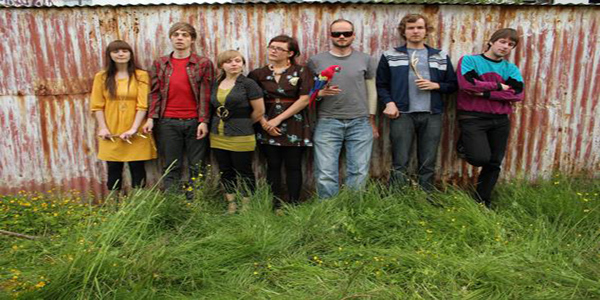 For such a small nation, Iceland has been musically punching above its weight for some time now. Defying the latest ash cloud from the mother country, Seabear dished out more transcendental folky loveliness - inspiring the whooping enthusiasm of a sold-out crowd of beautiful girls and young men in chunky jumpers, who made this gig upstairs at the Islington Garage an even more intimate experience than usual.
The latest in an apparently endless string of soulful, classically trained orchestral pop troupes, Seabear have transcended their humble beginnings as the lo-fi solo project of Icelandic singer/multi-instrumentalist Sindri Már Sigfússon to become a force in their own right.
The headliners played most of their current, second, album We Built a Fire – after a short but sweet set by their alter-egos Soley. A clear-voiced singer/violinist laid pretty folk-tinged melodies over limpid piano and some surprisingly funky rhythms. They may only have enough material for a 20-minute set at present, but the debut album should be well worth the wait.
When Seabear emerged, they looked a lot like Soley – except that they feature male, rather than female, vocals, courtesy of founder Sindri. At least to begin with, this is the band's only weak point. Sometimes mumbled, sometimes overly low in the mix and almost entirely Icelandic, they work as another instrument, rather than the melodic centre-point.
Luckily for Sindri, the music was working its magic without much help from him. Like latter-day Sufjan Stevens or a Scandinavian country take on the Waterboys, it created a warm and fuzzy vibe all round. Love was in the air as couples gazed into each other's eyes during the slower numbers; while the lyrics projected an empathetic understanding of the trials we all put ourselves through ("Human skin can be hard to live in", confesses I Sing I Swim).
Sindri was increasingly touched by the heroes' welcome that the band was getting, and his growing rapport with the crowd seemed to inspire him. Soon his voice was sounding stronger, the hymnlike Cold Summer hushed and spacious.
He dedicated one song to the ghost of the man who lived across the hallway from him when he lived in London, who was stabbed shortly after he moved out. The music's transcendent, happy/sad dichotomy makes this seem entirely appropriate.
Near the end one of those rare gig moments occurred when an absolute stormer of a tune kept building until everyone was worked into a communal frenzy, singing along as crescendo after crescendo was reached. By the time the band had taken a gracious bow after a well-deserved encore, it became clear we had witnessed something very special indeed.
Another belter of a gig from Bjork country. They must put something in the water…