Sarabeth Tucek @ Union Chapel, London 10.05.11
New Yorker Sarabeth Tucek has reinvented herself and started afresh in more ways than one. After contemplating an acting career, a brief stint as a backing vocalist for Smog and an acclaimed eponymous debut release in 2007, she has returned with the aptly titled follow up Get Well Soon; something of a cathartic documentation of turmoil following a series of personal events: car crashes and brushes with the law, alcoholism and loss. Its dark tone retains an honesty without self indulgence, while Tucek's abilities as a songwriter and confidence as a recording artist are exposed in her fluctuation between folk laments and the reverb soaked, atmospheric instrumentation that cocoons these, coupled with an effortlessly rich voice - both elegant and evocative.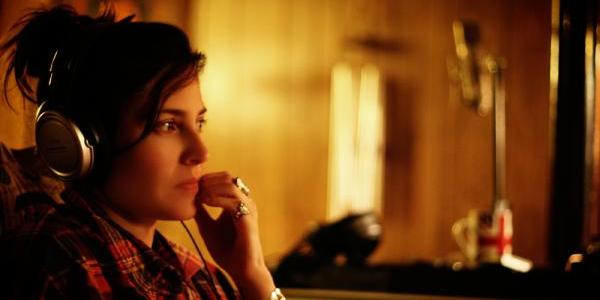 Whether or not it was clear to the crowd that these events had, in a sense, led to Tucek's place on stage at Union Chapel in support of the Leisure Society it was uncertain, but her captivating and haunting vocals harboured a hypnotic quality capable of transfixing a usually unsettled London crowd into an attentive silence for the entirety of her thirty-minute set. Playing alongside acoustic guitarist and album producer Luther Russell, while she led with the often dirgey electric guitar familiar in the likes of Cat Power, even Neil Young's gritty electric folk, her performance charted many of the tracks featured on
Get Well Soon
; from elegiac opener, the poignant 'The Fireman', to the hopefulness of album title track closer.
Despite her bleakness of topic there is a redemptive quality to her sombre though melodic compositions, and recording these as if in a vacuum of emotion over the course of a couple of weeks in the basement of a Pennsylvanian house, she seemed to bring a similar vacuum effect to the stage: structuring her setlist so the songs flowed neatly into and out of one another, with no need for introduction or explanation. Her lyrics, devoid of a flowery cliche of metaphors are deftly constructed, often simplistic yet poignant examinations of her grief; and her demure yet appreciative stage presence exposing such a usually internalised state; shone with a genuine substance. Closing with album title track 'Get Well Soon', with the assistance of Leisure Society member Christian Hardy on keyboards, Tucek received overwhelming applause for an honest, affecting performance.