Saint Agnes @ Studio 2, Liverpool, 01.03.18
The London based rock n' roll coven perform a superb, belligerent set on Merseyside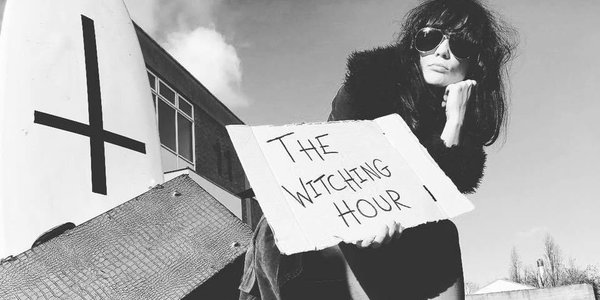 On a storm-tossed Liverpool night with the mercury well below zero and a full moon to boot, the stage is set for a visit from sepulchral rock n' rollers
Saint Agnes
on The Witching Hour Tour. Preceded by gospel blues standard John the Revelator and Jim Morrison's valedictory performance with The Doors, Riders On the Storm (apt, given the weather outside), a plume of smoke from the wings ushers the quartet onstage.
In spite of the disappointingly slight turnout, the lunging blues riff of Merry Mother of God Go Round at the top of the set showcases an impressive willingness to deliver the goods no matter the crowd number. The almost nonstop progress of the show demonstrating how well drilled the four-piece are, the road miles and doing things the hard way approach clearly paying off.
Kitty Arabella Austen, switching between guitar and keys is a luminous stage presence, whose pinpoint vocals evoke a combination of Janis Joplin and
Dry/Rid Of Me
era PJ Harvey. Possessing a commendably gnarly guitar sound co-frontman Jon Tufnell alternates between vocals and harmonica while doling out pugnacious riffs backed by the sinewy power of the rhythm section. The loud-louder-very quiet dynamism of Death Or Glory, stripping down to just Kitty's vocal at points showcases the group's heavy-hitting side, as does a heads-down rampage through Diablo, Take Me Home.
Re-energising a track done to death by countless covers bands, Saint Agnes' rendition of Roadhouse Blues reimagines the track as though it was written by Mazzy Star. Kitty's vocal locating a mournful twist to its '
We're goin' to the Roadhouse/We're gonna have a real… good time
', where it sounds as though any revelry will be endured rather than enjoyed. The suitably incantatory groove of The Witching Hour meanwhile highlights a diversion into ornate gothic rock, an avenue the group hopefully pursues on their debut album.
Saint Agnes The Witching Hour Tour dates:

March:
5th - The Cellar - Oxford
6th - Purple Turtle - Reading
7th - The Moon Club - Cardiff
8th - The Underground - Plymouth
9th - Driftwood Spars - St. Agnes
10th March - The Forum Basement @ The Sussex Arms - Tunbridge Wells

April:
5th - Heartbreakers - Southampton
6th - Hope & Ruin - Brighton
8th - The Lexington – London
Tickets are available here