Rhymesayers Entertainment @ Electric Ballroom, London 07.11.11
Rhymesayers bring their independent hip-hop family across the pond and the tale of the sales suggests it's been a long awaited trip…
Nov 7th, 2011 at Electric Ballroom, London / By
Frank Kruyer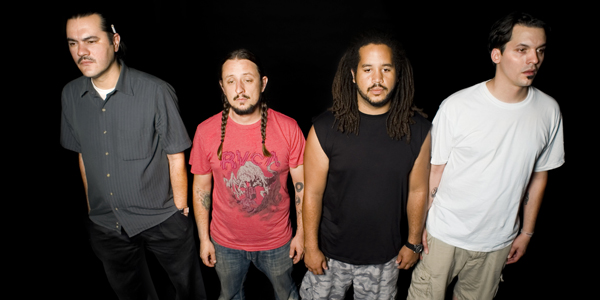 Tonight the Electric Ballroom in Camden Town plays host to four acts from the
Rhymesayers
collective, an integral part of the new wave of US independent hip-hop. Rhymesayers are a family like troop growing and gaining momentum in a fashion akin to the Epitaph punk rock boom of the early nineties. These Minnesotans have come a long way since humble beginnings in 1995. The label has really ramped up their activity since and acquiring the services of the legendary Evidence of Dilated Peoples for his latest full-length
Cats & Dogs
, reaching out across the Atlantic seems like the next step logical step.
Brother Ali is acting master of ceremonies for the evening and begins by introducing perhaps the most cerebral lyricist of the night
Blueprint
. The thought provoking producer come rapper marches from one end of the stage to the other to an appropriately dark lit backdrop as he delivers a set predominately made up of tracks from the synth driven soap box styling's of
Adventures In Counter-Culture
. Accompanied by DJ Rare Groove and big bearded bass player Bobby Silver (the latter's sound not so prominent), Blueprint's delivery is one part lecture, one part call to arms. Whilst never completely capturing the audience vote, the floor's attention is most definitely held and eyebrows rise during the progressive set closer 'So Alive'. The 60's soul inspired electro-pop number is let down by some inaudible sung vocals as Blueprint shares mic and keytar duties. But it's the only low point worth of mention during what is overall a solid opening set.
Some classic cuts later courtesy of Rhymesayers selectors Grieves & Budo and it's time for
Brother Ali
to bring the par-tey. The end of that sentence was shameful, but true. Brother Ali is one big mean hype machine from start to finish. Granted Brother Ali's style is not actually 'mean', but his pure old school flow and boom bap beats gets hands waving and bodies bouncing (even when he drops the wrong verse and recovers with a freestyle improvisation towards set's end). A not too surprising style and flow from a man who quotes MC's such as Chubb Rock and Paris among his personal favourites. Call and response is the order and the uplifting feel good vibes 'Take Me Home' and 'Fresh Air' feel like the yang to Blueprint's yin. But like every Rhymesayers signing Brother Ali has a message to deliver and flexes his satirical muscles whilst performing 'Uncle Sam Goddamn'. Even when delivering his most critical lyrics Ali can do nothing but echo positive energy, leaving the impression that this is a man who speaks out of patriotism rather than cynical hatred. It's nothing but smiles all round and the atmosphere in the Ballroom is bubbling.
There's still time left for another sound clash as the night's heavy hitters square up and prepare to approach the art of hip-hop from very different angles. It's Raw and hard West Coast rap versus progressive and organic feeling Minnesota storytelling. The sold out Electric Ballroom is beginning to look just that and it feels like
Evidence
, the Grammy award toting one third of Dilated Peoples is the new jewel in the Rhymesayers crown. Straight out the blocks with 'It Wasn't Me', a joint surely designed to open a set, an aggressive edge has arrived.
. Slow Flow's
paced vocal attack is as clear as a blue sky day and for the first time lyrics can be heard being sung back towards the stage. The set draws heavily from the aforementioned
Cats & Dogs
and 2007's
The Weatherman LP
, 'I Don't Need Love' and 'Let Yourself Go' stand out strong live and there's even a surprise as EV proclaims his love for the Beatles and breaks out 'Frame Of Mind' from the 'I Don't Need Love' respect paying EP. The 'Come Together' sample seems to take the audience by surprise and brings them back to life during the almost unavoidable mid set lull. Evidence's delivery, akin to all his new stable mates is laced with sincerity and real appreciation which is more than reciprocated by those who have travelled from far and wide to reach Camden on a wet Monday night. Evidence is getting carried away with himself and keeps on building and building upon his momentum until he checks his watch and realises the time to go, has gone. The last track is stopped by the man himself around ten seconds in and an almost apologetic farewell is met with rapturous applause.
The decibel level steps up a notch for
Atmosphere
, the only 'group' on the bill. With live keys and guitar from Erik Anderson and Nate Collins accompanied by producer and co-founding member Ant behind the decks, Sean Daley aka Slug steps out to a very different audio backdrop. Atmosphere also take a hard hitting approach to opening their set with the lead single from the group's third full length (arguably a real turning point in the Atmosphere story),
Trying To Find A Balance
. The country come blues guitar intro sends the crowd into frenzy and Atmosphere must be in a reminiscent mood as the set to come is littered with tracks stretching far into the back catalogue. As Slug confesses that he has spent the day suffering from the night before, jokes about calling in sick are met with playful boo's but Slug is humble enough to admit they are well deserved considering how long some of those here have waited to experience Atmosphere live. After taking the crowd for a ride through the latest LP
The Family Sign
it's not long until it's time to settle down. After building up the pace, its wound down and Atmosphere draw everyone back in for some philosophical introspection with 'Woman With the Tattooed Hands' and the soulful, Cali-sounding piano led 'Sunshine'. There's a distinct lack of material from 2008's
When Life Gives You Lemons, You Paint That Shit Gold
and with good reason too, you don't want to peak too early when you're headlining. It's a matter of opinion, but Atmosphere lay down their aces when performing the likes of 'Like The Rest of Us', 'Puppets', 'Your Glasshouse', 'Guarantees' and the last orders melancholy of set closer 'Yesterday'. The calls for an encore carry on long after the house lights fire up and obligatory squinting en masse begins as pupils quickly shrink.
To describe tonight as a gig, or a concert, does not really do it justice. It was an event, a party, with good vibes and a great feeling throughout.
Rhymesayers Entertainment
may have been around since 1995, but if anything it feels like all those in attendance have just witnessed the beginning of a new chapter in the label's history. It's a show that won't fade from the memory fast, here's hoping it's not too long a wait until we can welcome the Rhymesayers family back to our shores.