Return to Aljustrel @ 360 Club, Leeds 23.11.12
Back at the 360 Club for the first time in a while, Bearded takes a brief note of the signs of a good promoter – 360 and its mother Rich Watson have clearly risen in professionalism - before squatting its lardy arse down for a promising night.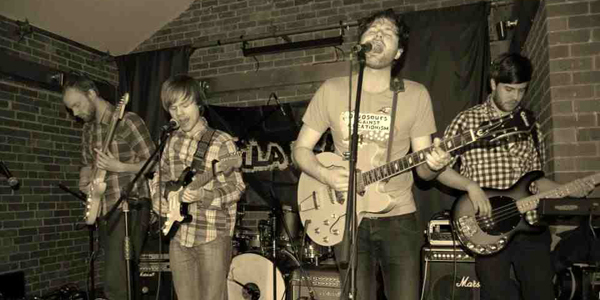 First up was
The Astral Plain
. Combining a strong mixture of drone minimalism with pop beats these guys caught on quickly with a polished sound. Their abilities to develop their decidedly limited material (often with a single guitar line running throughout a song) were impressive and subsequently relied on frequent time changes and more imaginative ways with which to keep us on our toes. Catchy songs that, in any other hands, ought to have become boring, set a tone of grounded experimentation for the night.
Coming in exactly on the beat,
Bat in the Saddle
were a band telepathically in tune with each other. With well-structured pop songs unashamedly tinged by the sin of the blues, their three-piece frontline made no attempt to hide the clockwork rhythms of the drummer who formed the core of this interconnected matrix of artists. Creating perfect crescendos and never straying from rhythmic elements coming from other directions, this central feature allowed the rest of the band to communicatively strut through their set with confidence. A single criticism might be the necessity of the acoustic guitar, as the synth tends to dominate the high-end. However this guy's harmonised backing vocals make him essential and, in further talks with the group, this could be a remnant from an earlier stage in a band evolving out of its maker's hands. So if this isn't the finished product, then may the world be wary.
Having just released their ambitious new album
Tell the People I'm Not Coming Down
,
Return to Aljustrel
were never going to be shabby. With a solid grounding in theoretical understanding, the band are fully able to switch-up their sound at a moment's notice, leaving your head spinning for a split-second before they drag you back in with another unique and multi-layered hook. This creates songs that cover a huge range within a rather unbelievably short space of time. Musicianship isn't a problem here either and it's so refreshing to hear a throng of accomplished singers putting their minds to something more than goddam folk-pop. Furthermore, timbral range is kept exciting too and the occasional use of extra percussion or the moulded imaginations of the lead guitarist add yet more methodically thought-through layers to their sound-world. Overall, the power of their contrast between gentility and controlled, forceful tirades has to be experienced live. Whilst their album speaks of ethereal complexity, seeing this dynamic six-piece throw everything they have into a melting pot - already bubbling over from previous performances – grounds the act in a way the record can't. The highlight of the show was definitely 'How We Control' purely because it's the best example of this; with all vocals blaring, the pounding hook hits the listener like a slo-mo machine gun and, as you're thrown into the air, you'll be overcome with the feeling that you don't want to come down.
Credit once again goes to 360 club for providing the platform for unsigned Leeds-based artists to promote and evolve in an increasingly sleek but ever-familiar environment of positive, constructive, dialogue-based musicianship.