Resonators @ Queen of Hoxton, London 08.07.11
Fresh from supporting Fat Freddy's Drop at Brixton academy, Resonators are just about the hottest thing on UK dub/reggae scene right now. One of the bigger draws in a vibrant Brighton music scene they are now starting to spread their burgeoning reputation further around the country.
Jul 8th, 2011 at Queen of Hoxton, London / By
David Waite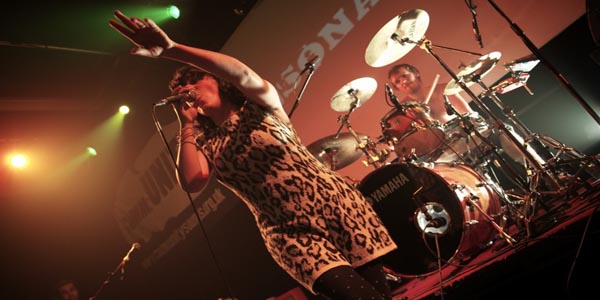 They face up to a lively Friday night Queen Of Hoxton crowd and deliver a set that bares all the hallmarks of a veteran act of many years on the summer festival circuit. The fact that the Res only released their debut record a year ago makes it all the more impressive.
As the show begins, a busy dance floor becomes noticeably busier. Conversations are ended, exit plans are delayed, and all of a sudden the Res have a captive audience. Comparisons with Lee Scratch Perry and The Revolutionaires maybe lofty but it's clear that this is high quality UK dub revival in the vein of much more recent genre standouts Gentleman's Dub Club.
The rhythm section provides the fattest of foundations. A perfectly made bed for the horns to build layers of beautiful, lazy melody. The female vocal duopoly bring hooks where needed but are equally content to sit along side the brass. In fact, the best thing about the Resonators is they know when to drop back, and let a tight groove take over. Everyone is very clear about their role and the overall sound is uncomplicated, and adeptly judged. Considering there is barely enough space on stage to fit all 9 members, it is a great achievement.
Highlights include the sultry 'Sweet Love Affair' and the recent single release 'Gold Getter' but it feels unfair to cherry pick. The announce their last track - the pounding 'Militant Boots', but are quickly back for one of the more well deserved encores in recent memory. To be honest, the Resonators could play well into the early morning without any complaints.