Queens of the Stone Age @ Wembley Arena, London 22.11.13
A Queens of the Stone Age performance seething with confidence, riffs deadly-sharp as ever, and a few unexpected surprises from their early days to give fans a little something extra to get excited about.
Nov 22nd, 2013 at Wembley Arena, London / By
Ian Stanley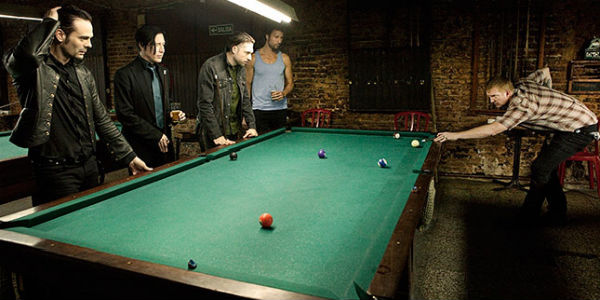 There was something from every age of Queens for fans at their Wembley show. New fans had the trippy offerings from Josh Homme's recent experience with death on the operating table from
…Like Clockwork
and older fans had material from
Rated R
as well as everything in between, including tour stalwarts 'No One Knows' and 'Go with the Flow'.
Arguably their biggest hit, 'No One Knows', was second in the set, which would be a bold decision for most bands, but
Queens of the Stone Age
have always been confident in all their material. And with the number of dedicated fans that they seem to breed, that confidence is well placed to play any songs in any order.
That's why they could feel just as confident in busting out 'In The Fade' – an album track on
Rated R
blessed with the very distinctive vocal of Mark Lanegan – for a rare live performance without Lanegan, and know that it would be just as well received, if not more so for its rarity, as any other in their back catalogue.
Throughout the gig Josh Homme rallied the crowd as usual and gave shouts of 'hey' to pack a punch to the end of each adrenaline fuelled song. There was no noodling or lengthy improvised rock and roll solos around songs such as 'No One Knows' for this tour. The deliveries were straight like a gunshot and new songs were just as directly effective on the crowd as old.
At the end of the gig Wembley had waited for 'Feel Good Hit of the Summer' and Song for the Dead to rip through the set and play their part. And in the encore they finally did. The crowd followed exactly the same description as the songs themselves - a little bit older than last time, but still just as enthusiastic and energetic – but filled with desire to pound against each other when the adrenaline rush kicked in. The chorus of 'Cocaine' from 'Feel Good Hit of the Summer' rang across Wembley with utter joy and the final riff of 'Song for the Dead' was greeted with just as much energy.
Queens of the Stone Age almost created a hive mentality, and it was all led by the confidence, experience and years of the band at the front, who ripped through a set and gave a night that was a little wiser, a little more weathered but still just as energetic as ever.
Queens of the Stone Age Links