Pulled Apart By Horses / The Wytches @ The Globe, Cardiff 15.05.2014
Anticipation for a Pulled Apart By Horses gig will always be high. Famed for their anarchic performances and accompanied by the highest grade of noise-bazooka, the last night of their UK tour saw all stops ripped from the organ and eased venomously into the eyeballs of a masochistic crowd.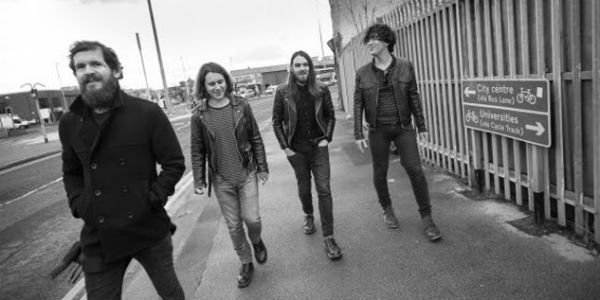 Of course, there was no skimping from the support either. If you haven't already heard of
The Wytches
, stop reading this and get to their Soundcloud page. Announcing their presence with a grainy wall of sound like an un-tuned TV having an Olympian bowel movement, they soon broke out into incredible Gormenghastian caverns full of echo and monochrome.
Crawling further through a set that twisted up elements of dirge, weird-pop and a heavy emphasis on songcraft, the band demonstrated excellent grunge-inspired loud-quiet techniques and kept an attentive audience constantly in flux and bewildered as to where they were to be flung next.
Their final track, 'Crying Clown' had it all - a sprawling intro with four teasingly anticipative clicks of the drumsticks; a softly spoken verse with a rough but tight backing; that old sound of a dishevelled scrote straining to make contact with the diamond beneath the rough; a riff-led chorus with a spat refrain; a breakdown ricocheting through the venue like a wild creature; a lead-in "like a pendulum" before the final chorus; and finally, The Wytches destroyed the noise and left the stage.
It's no secret that
Pulled Apart By Horses
are still best known for their 2010 eponymous ejaculation and, as much as this is an extremely unfair attitude given the power of their more recent work, it did add a slight taint to this performance. Kicking off with 'PWR' would never be a problem though and within seconds the weedy yet inexplicably wild young men that populated the floor were hurling themselves into each other.
For the next few songs also, everything went rather how you would expect at a PABH gig; two thumbs pressed against a collective windpipe and pressure applied until blue with riff and frenzy. And then new single 'Hot Squash' provoked an unexpected reaction. The band lost no energy and the monstrosity of that driven riff was cosmic. The audience, however, lost their way. The floor cleared out and only those few dedicated moshers remained. Perception of this trough was exacerbated by the follow up track 'I Punched A Lion In The Throat' which was instantly recognised and picked up on by an eager and sizeable gang of groupies. It's weird when you find yourself at a hardcore punk/stoner gig with an audience who would prefer to just hear what they know.
Anyway, the band were completely undeterred by the response they induced. Pummelling through more
Tough Love
material, all members seemed possessed by their sound, hurtling themselves around the stage and chugging, chugging, chugging. When it came time for 'High Five, Swan Dive, Nose Dive', singer Tom Hudson introduced it as 'a really, really, really old song' but still they refused to simply go through the motions. Obviously another track the audience were waiting for, PABH unleashed it like a storm. Halfway through, Hudson jumped down into the crowd and near battered his barbaric fans with the head of a still active guitar before winding up back onstage to give the final cry on the subject of his flaming testicles.
Their cover of 'I Wanna Be Your Dog' was heavily appropriate and sounded lovely dripping with Hudson's vocals and the drones of James Brown and Robert Lee's strings. They finished up with the epic 'Den Horn', for which Hudson again threw himself around the venue before landing atop the merch-mountain and preaching his line to a sea of outstretched arms. Once finished, PABH had given us a superbly-structured show that gave no bloody quarter and built to an incredible and definitive climax. They offered their sincere thanks and left sporting large grins and larger sweat-stains.
The message? Go to a Pulled Apart By Horses gig and throw yourself into their entire set. They've been forerunners in their field for years, are still releasing excellently evolved material, are experts at full-show construction, show extreme promise for their upcoming album and, honestly, they deserve a bit better than Cardiff gave them.
Pulled Apart By Horses Links