Plants and Animals @ the Old Blue Last, Hoxton 09.09.10
It's cosy and friendly upstairs at Hoxton's Old Blue Last. Impressive Norwegian openers Moddi's warm, cinematic post-rock goes down a storm - lovely stuff. The Pattern Theory's competent but unexciting update on mid-70s Pink Floyd is nothing special, but it's Plants and Animals most of us have come to see.
Sep 9th, 2010 at The Old Blue Last, London / By
Ben Wood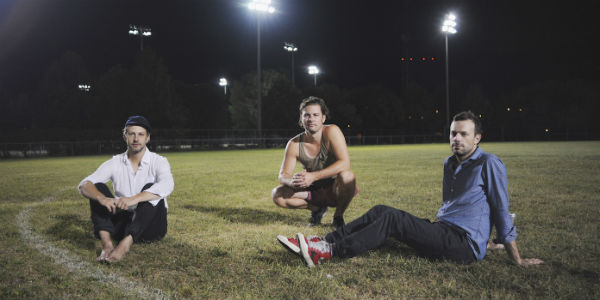 On record, this Canadian trio meld melodic, riff-heavy classic rock to the modern anthemic, stadium-filling indie of the Killers and latter-day Kings of Leon. There's nothing in their oeuvre to frighten your dad, but when it works, it can be pretty effective.
The boys have an unconventional line-up: two guitarist/vocalists (Warren Spicer and Nick Basque), a drummer who also weighs in on harmonies (the wonderfully named Woody Woodley), but no bassist.
This may be a quirky selling point, but also holds them back: their stretched-out jamming sections are much indebted to Neil Young and Crazy Horse's lean but glorious debut
Everybody Knows This is Nowhere
. But Neil could tell them that, without a solid bass to anchor the groove, it's not easy to really soar away and touch the sky. It also means that they can't really swing like the best rock'n'roll bands.
The epic opener, a soulful slow burner, has a Doves feel to it: these boys can certainly play, and the crowd seems keen, but the band seems slightly detached. The main vocalist faces his bandmates rather than the crowd to sing, rather summing the gig up. It seems like a solid soundcheck by a bunch of pros, rather than a gig by a bunch of guys who want to seize this room by the scruff of the neck and give it a good seeing to.
Midlake did this sort of thing a lot better on
The Trials of Von Occupanther
; while PAA's tighter-trousered brethren have more glamour and attitude. There are moments: some nice guitar interplay and harmonies; and the occasional singalong moment (Faerie Dance had a laidback but anthemic Lynyrd Skynrd feel).
But with merely competent vocals and a lack of goosebumps, at present
Plants and Animals
are stuck between two stools – not musically deep enough for the fans of their 70s influences; and lacking the star quality of their more popular contemporaries. Time for a rethink?