PINS @ the Bulls Head, Birmingham 16.10.13
Mancunian noir-indie rockers on superlative live form
Oct 16th, 2013 at The Bulls Head, Birmingham / By
Ian Stanley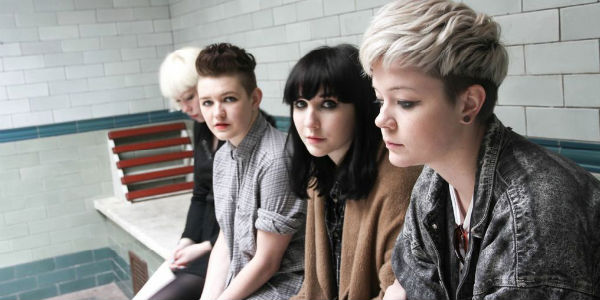 Everything
PINS
do encourages fans to feel included, so the more intimate gig the better. And for the steam-powered driving guitar and drums, 'gang vocals' (as they themselves put it) and blindingly cool appearance of PINS, the Bulls Head in Birmingham is perfect.
Youth Man
and tour mates
September Girls
, start by giving some excellent support, then all of a sudden,
PINS'
driving guitars and bloody darkness is pumping out from the tiny stage, just a lip above the crowd floor.
The sound almost punches you in the face with music. This performance is made for cigarettes and alcohol to be usually followed by a hunt for a dirty kebab. And in this instance, that's a good thing.
Songs 'LUVU4LYF' and 'Get With Me' stand out and feel like they've been around for ages. They typify the haunting joint vocals and dirty, pummelling guitar and bass that make PINS so great.
Because of the nose-almost-in-the-crowd indie performance the room really gets to feel part of the band as they bring you into their world (if you're interested, it's a place where Instagram reigns, everyone is friendly, music Is communal and we all get to be ultra-cool – which is excellent).
Making their fans feel part of the band is one of the great things about PINS and they keep it going outside of gigs through their numerous social media stuff.
The final song, 'Girls Like Us' drums into your head. It's filled with the driving chords, chanting gang vocals and picked riff that turns a guitar into an industrial steam machine that has pumped into the crowd for the entire gig.
By now everyone's dancing shoes, including the 60 year-old-man at the back outdoing many younger feet in the audience, have been motoring for some time.
Then, even more suddenly than they began, they finish. Lights up. No encores. No nonsense.
It's such a sudden end that the crowd gets a touch of rabbit-in-your-headlights before exiting the room. PINS are on form and make the room feel part of it. Still buzzing, it's off in search of kebab and to see a tweet from PINS to complete the night: "Thankyou Birmingham, you are the best dancers in the whole world xxxxx" – why, thank you.
A live performance from Manchester band PINS has the look, style (I swear, those tote bags are going to become iconic), energy and, most importantly, music to build a massive cult following that will journey with them until the ends of the earth.
And with new album
Girls Like Us
out now, it'll be good to see how that following grows.