Pinkunoizu @ Hare and Hounds, Birmingham 14.10.13
With the thud of cowbell, shimmering cymbals and momentary shriek on what is quickly becoming my favourite song of the moment – 'Moped' – Jaleh Negari pulled the swirling, psychedelic and intelligent improvisations of Pinkunoizu together to deliver a brilliant hurtling ball of sound live performance at the Hare and Hounds.
Oct 14th, 2013 at Hare and Hounds, Birmingham / By
Ian Stanley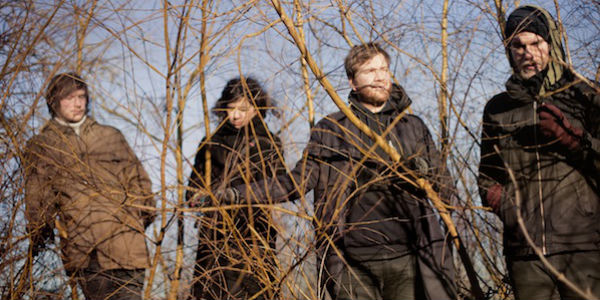 The diminutive five foot and a bit whirligig of movement behind the drum kit in addition to
Pinkunoizu's
other undoubted talents felt like the musical equivalent of holding your arms out when standing on one leg; she makes achieving balance easy. And in Pinkunoizu's case it also allows them to use their undoubted talent for improvisation to create and almost completely transform the sound from their albums.
From the nature of their attention grabbing performance at Hare and Hounds creating, improvising and having a sort of musical democracy is massively important to all in the band. As guitarist and vocalist Andreas Pallisgaard says about Pinkunoizu's formation after the break-up of the eight piece band Le Fiasko on their ITB page, "starting Pinkunoizu was a great relief for us, since we could feel that we were nurturing a space where we could play music for real and have a great say – all four of us," and that means lots of flexibility in their set.
Pinkunoizu's strengths certainly lie in their musicianship, their confidence in it and their ability to be creative with it. The Danish band use their excellent albums
The Drop
and
Free Time!
as guidelines rather than rigid sheet music.
Many riffs from
The Drop
are played around with in loose and lively interpretations that suit the live performance and pump out over the crowd. It's a clever alternative to producing some of the electronic layers on the record.
On 'Pyromancer' the humming vocal of Pallisgaard is a line of calm surrounded by waves of sound crashing in gorgeous storms around it. His singing becomes, alongside Negari's drumming, a soft, fuzzy constant in the song to pull everything together and ease it along.
For the final song there's 'Moped' with that vocal shriek of pure energy. The swirls of sound, full-bodied bassline and shimmering cymbals go at full tilt in one of Pinkunoizu's stand out tracks. Then everything stops dead for Negari's vocal of 'I just might, I just might' shrieked with energy over the crowd. Then everything starts again just as suddenly as it stopped. And it's glorious.
The set ends with smashing drums and hammering power chord finishes stitched together with feedback and electric dials.
Pinkunoizu's performance shows exactly how important being able to improvise and be creative is to them and their live set. And Jaleh Negari being able to add her own creativity through drumming as well as pulling the looser elements of the set together is a vital part of that. This is a musical democracy. As Pallisgaard says, Pinkunoizu are "nurturing a space where we could play music for real and have a great say – all four of us."