Pink Punk Party 2: Peaness, The Franceens, Queen Zee & The Sasstones: Maguire's Liverpool (21.05.16)
Chester indie pop trio Peaness headline the second Pink Punk Party event in Liverpool
May 30th, 2016 at Maguire's Pizza Bar, Liverpool / By
Richard Lewis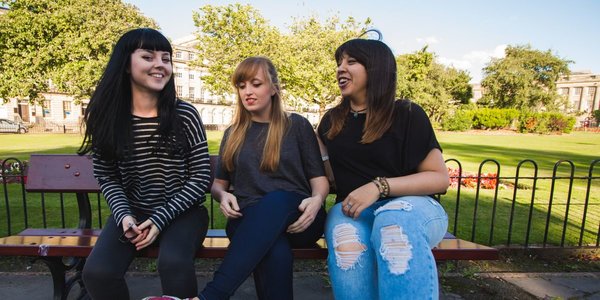 Held at city centre DIY fulcrum Maguire's Pizza Bar, the darkened back room gig space plays host to a clutch of underground acts as part of the second Pink Punk Party staged by promoters Bitchism.
Despite the drum kit gradually escaping across the floor as the set progresses and the frequent squeals of feedback, trash rock duo
Queen Zee & The Sasstones
combine visceral shin kicking clamour with full blown songs, as the likes of Sisyphus and Anxiety prove in ample measure.
Rigged out in bowling shirts and clearly in thrall to 1950s Americana, hard hitting York trio
The Franceens
take vintage rock n' roll as their starting point and hotrod it to cross over into punk. Highly redolent of San Diego band Rocket From the Crypt, the trio are founded on pummelling rhythm guitar rushes doled out by their power playing axe man. Barely pausing for breath the surf rock likes of Spin showcase the trio's near non-stop assault. While the band's straight up riffage and up-and-at-'em tempos may seem simple to play on first appearance, their tracks take a sharp talent to pull off.
Headliners
Peaness
(pictured) cap the bill, the Chester indie pop trio darting through a compact series of indie pop confections. Despite the slightly muddy sound mix the harmonies of bassist and guitarist Jess and Carla respectively are on point throughout, their deputising drummer impressively propelling the group forwards.
The descending chord sequence of recent single Oh George which takes aim at the man born Gideon currently in charge of the country's economic policy provides the set highpoint. The likes of Fortune Favours the Bold, No-One and I'm Not Your Problem meanwhile showcase the group's melodic wherewithal in brilliant fashion. With all band's half dozen strong song catalogue available on a single cassette, hopefully a long player is the offing soon.