Pere Ubu @ Fibbers, York 16.04.13
In the film 'Anvil! The Story of Anvil', it is rightly and continuously recognised that persistence and a strong sense of identity and purpose go a long way to providing a band with credibility regardless of what they're wailing. Perhaps a step up from those hairy thrashers, it is no less of a wonder how Pere Ubu survives. Priding themselves on being almost anti-profit and sticking to their guns to the point of taking pop-shots at others from the safety of nowhere, the band have just released their fifteenth studio album, this time choosing dance music as their, presumably uncaring, enemy. So with the supporting tour all set, we picked up our tap shoes and travelled to York to throw some shapes.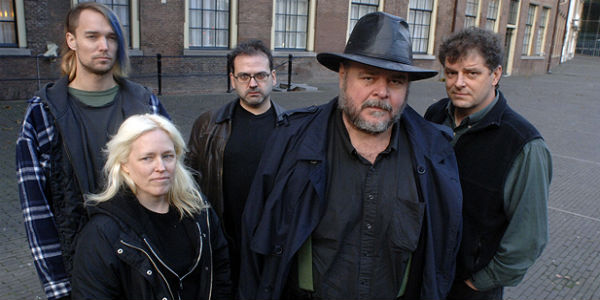 Before the main attraction,
Variety Lights
took a turn. Sculpting songs out of seas of sound, this was a tight, anxious meditation of a set. With singing more often than not accompanied by 'wobbly-jowl' technique for a tremolo effect, basslines droned, drums steadied and the high-end washed and scrawled, creating an indefinite atmosphere of thought cycles and confusion. Unfortunately, the set was put out a bit by a slightly pernicious frontman who was never happy with the sound and even came out to tell the engineer how to do his job whilst his bandmates knowingly smiled and rolled their eyes. However, prima donnas can be begrudgingly excused when expressing visible passion for their work and, perhaps in a different venue, Variety Lights could certainly carve their own path.
Now, whatever is written here, chances are frontman and only surviving founder of
Pere Ubu
, David Thomas, will either not be interested or not like it. It comes as no surprise that he started out as a music journalist since his egocentric attitude towards others' music, concepts and all-round state of being is exemplary ('Musicians are Scum' is meant in earnest). He doesn't seem an angry man though. A little grumpy perhaps but, seeing him start out with jokes and doing a shimmy-dance to the music, it's hard to deny the man his bubble. Indeed, it's a pleasure to see an old boy enjoy himself in such an absurd manner.
It seems to be the case that Pere Ubu generally don't go backwards - a respectable trait considering most bands older than five years quickly get mired in a back catalogue of songs they 'just have to play' - and this in conjunction with necessary promotion for the new record gave us a night of mostly new material (a stop in at 'Modern Dance' was a welcome treat but not a necessity).
A few songs in and 'Mandy' was announced, giving Bearded's accomplice cause to sing Barry Manilow (or Westlife as we were corrected) and, interestingly, that reaction is intended. Many of Thomas's theories can be found online including his 'beg, borrow, steal' attitude born from folk music but it has to be said that he often doesn't come across as anything more than pretentious in print. Of course this may be a case of misunderstanding or misrepresentation but, in truth, Thomas's music speaks volumes more about his ideas than could be captured in factual prose. Despite the band taking care to document their activity for fans in a free, open fashion, essays and reports can't help but detract from what is there already. So, the best way to get to grips with Pere Ubu is to see them. The only way to understand his stealing theory is to hear one of their songs announced and then hear a non-muso sing Westlife [sic].
The only way to hear the 'dance' in Lady From Shanghai is to see Thomas attempt his own shuffling physical interpretation. The only way to get to grips with their strangled endings is to see Thomas clutch the mic and wonder why 'she calls me Johnny Rocket' in futility, or fume at his bandmate for not playing the entire 'Mary Had a Little Lamb' sequence. The only way to understand the work put into each piece is to see Thomas twice collapse at the end of a song, clutching his head in anguish at the virtually unnoticeable mistake made on his part.
So, stop reading now and go and listen to or preferably see Pere Ubu. Through the decades the only thing they've lost is their past, a process which has made them stronger and created a music which is too detailed and complete to be translated here.