Peggy Sue @ Green Door Store, Brighton 07.04.14
Brightonian indie pop trio on sparkling form on home turf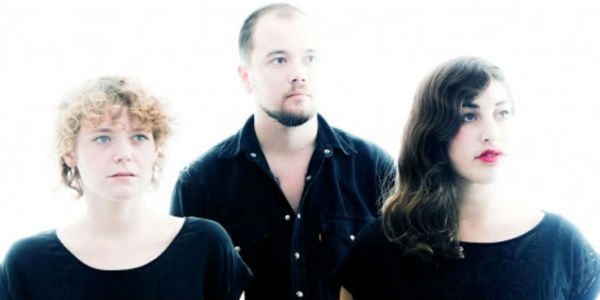 The intimate rough-edged Green Door Store beneath Brighton Station is perfect for the bittersweet reverb-tinged melodic thrum of
Peggy Sue
, who seem delighted to be back playing their home town to kick off a UK tour on the back of a jaunt around Europe.
Hardened by early gigs supporting the likes of Mumford & Sons (hey, we all make mistakes when we're starting out),
Peggy Sue's
tremendous threesome of Rosa Slade, Katy Beth Young and Olly Joyce play a slick, beautifully controlled set highlighting their new album
Choir Of Echoes
but also making brilliant dips into 2011's
Acrobats
and their debut
Fossils And Other Phantoms
.
Peggy Sue are one of those bands that actually seem better live compared to their occasionally overly-languid feel on record, bringing out their bluesy echoes of early PJ Harvey, kicking in early with the dirty scrunch of 'Song & Dance' followed by the niggling boom and little guitar flourishes of 'Substitute'.
The achingly pretty 'Always Going' is introduced via some banter on the joy of disco balls, followed by the excellent 'Yo Mama' from
Fossils
... and a softly torchy 'Longest Day of the Year Blues'. After this more downbeat hiatus, the tempo quickens with the bittersweet harmonic brilliance of the wonderfully-titled 'How Heavy the Quiet that Grew Between Your Mouth and Mine' and a pacey take on 'Watchman', all rat-a-tat drums and guitar rush.
A fantastic stripped back acapella take on Ray Charles' 'Hit The Road Jack' is bolstered by looped voices, followed by the spine-tingling 'Idle'. Next up, 'Funeral Beats' is a brilliant summation of what makes Peggy Sue a great live act – the gorgeous boom of reverb guitar over which sweet harmonies hover like ethereal steel.
'Two Shots' is introduced drolly as "a love song about tonsillitis", its lilting twang augmented by trumpet, while the main event ends with the dark lovelorn musings of 'The Errors of Your Ways'. And it's only a short wait for an encore – the surging call and jaunty beat of 'Figure of Eight' – before it's time for Peggy Sue's wonderful frontwomen duo to call time.