Park Hotel @ The Victoria, Dalston, London 14.03.17
You couldn't get less indie than this lot... Park Hotel are funking great and they're shooting for the stars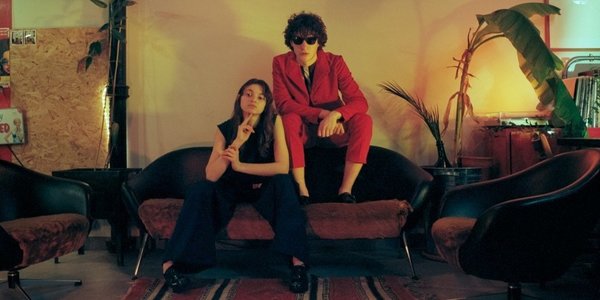 Funk austerity, let's dance... Tonight's gig is plugging Fierce Panda's Singles '16 compilation, but headliners
Park Hotel
seem to aiming much higher than your average indie troupe. The London duo's debut 'Gone as a Friend' is an impressively sleek and groovy calling card. And if this gig is anything to go by, they already have a rabid local following and some serious live chops.
They look the part too. Sharing the limelight and the vocals, Tim Abbey and Rebeca Marcos-Rosa are sharply tailored, confident and throwing shapes like
Top of the Pops
never went off the air. Flanked by a rather glamorous bassist, they lead a six-piece, tight-as-fuck funk-filled outfit that fits somewhere between the hip post-disco of Sly'n'Robbie-era Grace Jones, the wired, arty funk of early Talking Heads and Nile Rodgers era Duran Duran.
Kicking off with the single is a ballsy move. They have the groove nailed straight away and within seconds the eclectically dressed and super-up-for-it crowd is going mad for it. Cries of 'Timbo' fill the air, making it seem more like a homecoming gig than an away date for an act who seem to have an awful lot of mates! By the time surging synth sounds bring the song to a conclusion, it's already kicking off.
'Doom Disco' is spacious and slower, with some great choppy rhythm guitar, while there's enough cowbell throughout to satisfy the guys in THAT
Saturday Night Live
sketch. Seriously, though, who doesn't love cowbell?! One track moves more into '80s soul/boogie furry-dice territory, while there is some smart vocal interplay between the two singers, some nicely anthemic chanty bits.and a cheekily ecstatic housey section.
Not all of the songs are as hooky as the best ones, with the occasional dip into a more formulaic groove. But this is an inevitable issue for any new band, and one they recognise by keeping the set short and sweet. After forty minutes, they are off to a heroes' reception.
So, not all of this was gold but Park Hotel look great, sound great and can really play. In a world where The 1975 can sell shitloads with their smart and unashamedly ambitious 80s-influenced funk-pop, the time could be right for Park Hotel to make it big. Watch this space..
One final thing though, chaps.. change the name. You're sexy and glamorous...it's not! Seriously....