Outfit @ The Kazimier, Liverpool 18.06.15
Merseyside pop minimalists showcase second LP Slowness on home turf at The Kazimier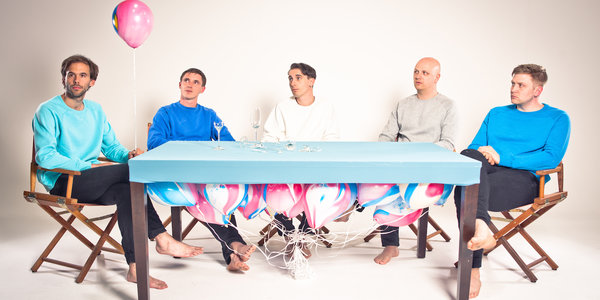 The opening salvo in a troika of like-minded alt. pop practitioners, Liverpool quintet
Gulf
are on reliably expansive form, locating the exact mid-point between louche and focussed.
Propelled by an estimable rhythm section the tri-pronged guitar line up interlocks seamlessly without become a barrage of muddy riffage, while the battery of FX pedals and the pellucid synth textures combine to create the effect of a warm wave crashing over your head.
The woozy likes of Ocean and Tell Me Again plus a new song debuted last meanwhile presumably showcase the workings of the band's first release, hopefully due some point soon.
Returning tooled up with a markedly more abrasive approach that suggests their sound has undertaken a gruelling weight training regime and then been involved in a bar brawl,
Veyu
boast a jagged edge largely absent from their elegaic early incarnation.
Held in place by a series of basslines Lemmy would probably approve of, the new material by the Wirral band batters along with malevolent glee. While song titles are scarce, the impression that the group have hit on a new seam of inspiration is tangible.
Given that their membership now live three not exactly neighbouring cities (Liverpool, London, NYC),
Outfit
remain as resolutely well-drilled a live proposition as when they first emerged.
With second LP
Slowness
hitting the racks the same week, the new set sees the five-piece journey into more esoteric territory compared to their 2012 debut
Performance
.
While much of the emphasis is now on the slow burning pay off rather than the immediate and upfront, set (and album) opener New Air retains the band's pop smarts, hinting at the precision tooled arrangements of
Cupid & Psyche 85
era Scritti Politti.
With much of the new material piloted by lead singer Andrew Hunts' piano lines, the vocalist sits behind his keyboard facing the audience exuding a Bryan Ferry air of cool detachment, complete with occasional Roxy-era style flourishes.
Thank God I Was Dreaming, sung by keys/samples technician Thomas Gorton showcases the distance between the group's most poppiest material and the recent likes of Genderless which thuds along in quasi-industrial fashion.
The metronomic pulse of Spray Paint from the first LP throws a slight curveball into proceedings while new gem Smart Thing provides the highpoint of the set, possessed with a fizzing energy that improves on the studio bound version.
Sticksman David Berger's knowing grin at the cheer that greets the opening drum pattern of Two Islands sees the dancefloor ignite, the track that initially served notice of the group instantly recognised .
The longest track in the band's catalogue,
Slowness
closer Swam Out meanwhile provides a suitably climatic ending. Building impressively, as layers of swarming guitar are added to oscillating synth patterns, by accident or design pieces of confetti from the previous week's riotous Krunk Fiesta begin to descend from the ceiling providing a fitting visual finale.
Photo credit: Andrew Ellis