Optimus Primavera Sound @ Parque da Cidade, Porto 30.05.13
Sun, sea and phenomenal bands make up the fledgling Porto incarnation of Barcelona's Primavera Sound. Gareth Main took it all in...
May 30th, 2013 at Parque da Cidade, Porto / By
Gareth Main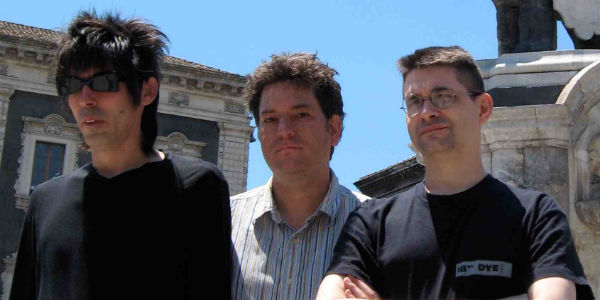 Although sitting firmly in the (admittedly sunshine drenched) shadows of its big brother,
Optimus Primavera Sound
is all but the perfect festival experience.
From the glorious weather to a line-up that ensures most headliners play to smaller crowds than they've experienced in some years, trying to pick faults is almost like trying to shoot fish in a concrete block because, although this festival is only in its second year, everything is nigh-on exceptional - a rare example of a sister festival that takes every lesson learnt from its already-successful iteration and applies it with such a level of detail to leave you aghast that so many other festivals fail in so many respects.
Firstly, the site is exceptional. Luscious green hills create natural amphitheatres at each of the three outdoor stages and make it easy to take in the artists whilst baking in the sun with a cheap beer (or coffee, as much of the Porto crowd seems fond of). The eye-sore that is an overfull bin that many festivals struggle with (and would make many that sit in warmer climates almost unbearable) is avoided by employing a local, friendly army of orange-shirted volunteers that whip up used beer cups and keep the whole site litter free. It also sits a bus ride (or cheap taxi) away from the centre, making a trip back to the apartment after a 4am finish a breeze. Those volunteers also seemed to always be on hand with a free ingenious bag-blanket hybrid or a lanyard of times, maps and informative information (in Portuguese).
Of course the Portuguese language wasn't much of a problem, because unlike the majority of European festivals that seem to be getaways for the Brits, this was a festival for the locals, with a huge proportion of Portuguese and Spanish residents dominating the site. To hear the English language was a rarity outside of the times in the early hours where to ask 'why are you all queuing for the toilets when there are dozens of empty ones?' in Portuguese is a bit of a stretch for us Englishmen brought up through the UK's beyond useless foreign language curriculum.
When it comes to the bands, to say that Primavera Porto had all the best bits of the Barcelona leg would be crass and incorrect, but this cross-section of the week before's line-up was certainly punching above its weight in terms of the ratio between crowd size to artist draw. To almost saunter within touching distance of Nick Cave or Damon Albarn is something of a rarity (whether you want to do it or not), but it was straightforward here, probably because most of the aforementioned amphitheatre layout, which ensured that a good view at any stage was achievable from any position vaguely in front of the artist.
And as with any European festival worth its place on the calendar, there was plenty of time given to local (and localish) bands, whether they're thoroughly enjoyable Porto rockers
The Glockenwise
or legendary Spanish indie group
Los Planetas
(who sound like Pavement would if their lyrics were in Spanish - I'm reserving comment), there was a healthy smattering of non-English language acts dotted throughout the line-up.
Mostly though, the English-language bands who did dominate the listings were on good form. The Leaf Label's
Roll the Dice
were a surprisingly perfect accompaniment to early Saturday afternoon sunshine,
Fuck Buttons
were certainly less pointless than their disco ball was, and
Daniel Johnston
loaded his set with
Hi, How Are You?,
which made it a superb outing.
Drones
frontman Gareth Liddiard made the thoroughly enjoyable decision to call the crowd 'Portuguese cunts' a number of times during their set,
The Breeders
performing
Last Splash
was as good as you'd expect a set celebrating a somewhat seminal rock record to be and
Swans
started slowly before hitting a phenomenal high somewhere twenty minutes before their set had somewhat flitted to a close
Steve Albini's minimalist rock trio
Shellac
(pictured) proved immensely enjoyable before being followed up by
Four Tet
, whose lack of doing very much other than standing at a laptop seemed a waste of the vast Super Bock stage even if the music coming out of it was sublime.
Dinosaur Jr
. were a phenomenal choice for starting the close of the last day. Their sunset set was outstanding, and closed on a high with
Fucked Up's
Damian Abraham tearing up the last song, incidentally, that was all of
Fucked Up
you'd have managed to see if you'd have showed up for their set at the advertised 3am start time, as it had been moved forward unannounced.
Explosions in the Sky
pulled what seemed to be the largest crowd of the festival, but their exceptionally ambient post-rock failed to really excite - unlike
Dan Deacon
, who played his standardly outstanding party set whilst looking like an overgrown smurf whenever the lighting fell unflatteringly.
Ultimately, this festival marked a huge high point in the life of either Primavera Barcelona or Primavera Porto. The sound bleed between stages is the one rather large issue that could be resolved, but it didn't stop the enjoyment of what was ultimately a stellar line-up of independent artists and world-conquering bands playing in a stunning location, with organisation that from the punter's perspective makes the majority of other festivals look woefully inefficient. Of course, the fact that Primavera has the Barcelona event to help negotiations with big artists, the festival is in a cheaper location and they have a branded festival name gives them both leverage and a larger budget, but none of these things do anything to detriment the audience experience. Indeed, if more festivals became the O2000 Trees Festival* and used the money to create something perfect, the improved experience would mean no logically-thinking person would even care.
*this isn't a dig at 2000 Trees, just an obvious sponsor pun we could think of, feel free to suggest more in the comments section below
www.optimusprimaverasound.com