of Montreal @ Art School, Glasgow 18.02.14
US psych pop veterans don't disappoint at the newly reopened Art School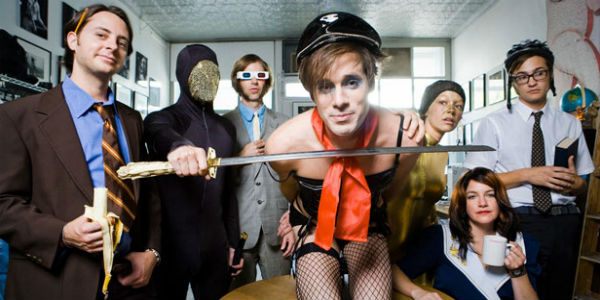 of Montreal
have always rather nearly straddled the lines between theatre and music. The word 'art' gets thrown around a lot in contemporary music, but in this case it most definitely applies. Veterans of the game now after eighteen years of performance, the band still achieve the rare feat of sounding as, if not more, interesting than they did back in '96.
Returning to Glasgow for the first time in "a really long time," as
Kevin Barnes
put it - three years, to be precise, not the longest in pop music terms - in support of their twelfth album
Lousy with Sylvianbriar
, the sizeable crowd inside the newly reopened Art School welcomed our American cousins with open arms. The set, borrowing heavily from the new release, as to be expected, was as infectiously dancey as could be expected, Barnes leading the crowd with almost childlike glee as he bounced around the stage.
Visual art on a screen behind the quintet - including colourised, overexposed footage of North Korean despots, Mexican professional wrestlers and vintage films, amongst other things – continued the art-pop metaphor that the band live out, and supplemented the now familiar sound. The loudest whoops were, of course, saved for the songs from years past, but both band and audience seemed to revel in the newer material.
For a band to continue for 18 years with a sound that constantly evolves, moving seamlessly from indie pop, to 60's influenced psychedelia, to theatrical glam, is impressive enough; for the man behind all this to still brim with excitement as he plays a 90-minute set is infinitely more impressive. The band might have gone through a few changes over the years, but to most of the Art School crowd, Kevin Barnes is of Montreal, and Kevin Barnes doesn't deal in disappointment.