NZCA Lines @ The Harley, Outlines Festival, Sheffield 27.02.16
In the spit and sawdust surroundings of The Harley in Sheffield NZCA Lines brought the city's first Outlines Festival to a close with an electronically bass thumping set
Feb 27th, 2016 at The Harley, Sheffield / By
Ian Stanley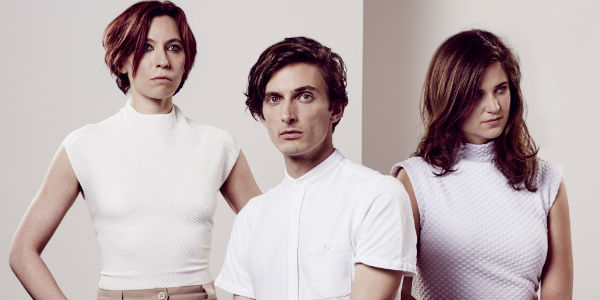 NZCA Lines'
second album –
Infinite Summer
– has been a success this year gaining the trio plays on radio and eager fans to flood a venue. Following on from an extremely lively Spring King set there would have to be a number of changes to the set up before NZCA Lines could begin. This switch from several guitar amps and drums crammed onto the small stage to several keyboards, electronic drums and other electronic wizardry took some time. With a slightly late start NZCA Lines zipped through the initial songs, delivering a light vocal to the backing of a bass thump underfoot. Much in the way Caribou has delivered his career.
Listening to 'Infinite Summer' in a lump of songs which NZCA Lines push their way into is hot and with a bass thump that grumbles along the floor. In total contrast are the vocals which sit cleanly over the top alongside keyboards.
There is a complete meticulousness to the production of sound and atmosphere. Right down to the choice of clothing on stage; three completely white suits. This attention to detail continues with the constant tinkering to adjust to the settings of The Harley. With red velvet curtains to their right and pillars and a bar to their left, the sound keeps bouncing around creating a warmth rather than a chill that the album versions tend towards.
'Persephone Dreams' however, spreads a cool breeze of sound across the growing numbers of nodding heads and bobbing hips. And 'Two Hearts' adds its beats to that vibe. It's a pin point deliverance of music with notes hit dead on.
NZCA Lines first album is said to be based on a world which is advanced, but is dying under the gaze of a red sun (sounds like Krypton before a baby superman was punted off its surface). With their white suits, futuristic swells and thumps pitched like a cool breeze NZCA Lines deliver that vision to a stage, no matter how much tinkering it takes. In this case it's a tough task given how The Harley is draped with curtains and small nooks pulling in the sound. This is a great venue that can handle the more traditional sounds of driven guitars thundered in and muddied up by the thickness of the curtains, so for this kind of electro the levels take a little time to get right. The quality of material shines through, but with festival season approaching, an open field beacons.