New Bums @ Cafe Oto, London 12.06.14
New Bums kick ass! Psych-rock Renaissance man's latest project hits the spot.
Jun 12th, 2014 at Cafe Oto, London / By
Ben Wood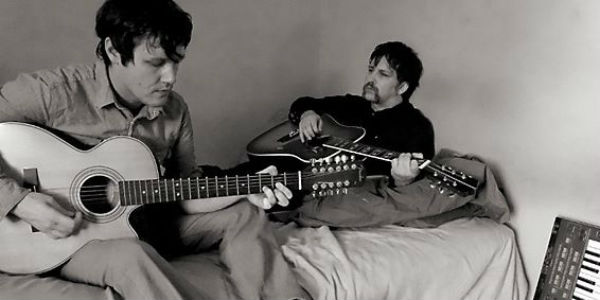 Ben Chasny is a man in demand, one of those enviable people who seem to make music 24 hours a day. The Comets on Fire and Six Organs of Admittance guitarist has released a seemingly endless stream of albums ranging from heavy psych-rock to mellower, folkier terrain, with a wide range of collaborators.
New Bums
is the talented Mr Chesny's latest incarnation, a duo with Skygreen Leopards' Donovan Quinn, an old friend, on lead vocals and acoustic guitar. They dovetail perfectly, swapping lead vocals, sharing harmonies and playing their asses off - but never self-indulgently and always in service of the song.
On a gorgeous sunny evening, the packed crowd at Dalston's Cafe Oto were nicely warmed up (as if that was needed!) by support act Tara Jane ONeil. The Portland singer-songwriter and artist alternated ambient, slo-mo womb music with elegant country-flecked laments. Lovely stuff.
New Bums make classy, spook-tinged psych-folk, the two men's guitars interlocking and complementing each other in what the Stones' Keith Richards and Ronnie Wood call the 'gentle art of weaving'. Main vocalist Quinn brings some classy picking, while Chasny contributes everything from screaming Woodstock guitar to transcendent baroque folk. Live, the record's steady pace is ratcheted up to winning effect.
There's a filmic, storytelling quality to many of these songs, with a fairly doomy worldview lightened by sardonic humour. 'The Killers and Me' is like a spaghetti Western scripted by Nick Cave, while 'Your Bullshit' is possibly the stand-out moment, the record's steady stroll replaced by a monster groove and one of the coolest riffs you will ever hear. 'Into the trash goes your soul' is a pretty great put-down too...
New Bums are slackers with attitude: 'Welcome to the Navy' is a bad trip nightmare with 'black mass candles' burning; while 'Your Girlfriend Might be a Cop' is pretty self-explanatory ('she looks at me like she knows all my crimes / and can bust me anytime..')
The boys are clearly having fun, but they're running out of songs by now. The encore is planned as a medley, but ends up with Ben and Donovan taking it in turns to serenade us. Then they're off, their repertoire exhausted.
They may have a stoned-out, slacker-than-thou vibe, but these are two super-talented musicians with tangible chemistry.
New Bums
may have a terrible name but they're a great band.