Neutral Milk Hotel @ the Roundhouse, London 23.05.14
A wailingly perfect return that overcame Jeff Mangum's personal problems to sell-out venues and perform to more fans than when Neutral Milk Hotel's last album was released almost two decades ago
May 23rd, 2014 at The Roundhouse, London / By
Ian Stanley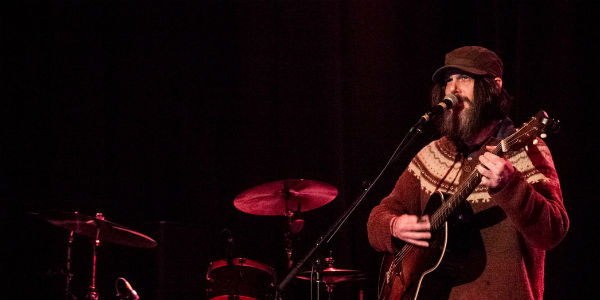 It's been 16 years since the return of
Neutral Milk Hotel's
critically lauded second album
In The Aeroplane Over the Sea
and to give some perspective of how long that is, a big chunk of this crowd won't have been able to talk or walk when that last album was released and still had plenty of time to reach gigging age.
This was an event that had a feeling the 'amazing' could happen. That fairground trumpets and accordions could fire up a bouncing pit of teenagers and twenty-somethings. Or that sounds ever so close to a death march, or a drunken drawl – 'The Fool' following 'Two-Headed Boy' as it does on
In The Aeroplane Over The Sea
– could bring a crowd to whoop and scream. In many ways this was always going to be a gig during which incredible things happened due to the initial amazement that it even happened after Jeff Mangum's alleged breakdown following the release of Neutral Milk Hotel's second album.
Mangum's – and Neutral Milk Hotel's – return to a love set has been very gradual with Mangum slowly edging back onto the live circuit since 2008. His appearance is totally changed by a luxuriant beard, masses of hair and a trucker cap with his eyes barely able to see through. And from the first moment that Mangum emerged from the darkness to the front of the stage, he gave a reason why Neutral Milk Hotel have picked up so many fans in the mean-time. His lone pitch perfect wailing performance of 'Oh Comely' was powerful and solely responsible for the silence across the venue during the six or eight minutes it is played.
With the full band on stage Julian Koster took control and ran around energetically and interacted with the audience. It was evident that all of the band – including Mangum's wife and filmmaker Astra Taylor – enjoyed themselves, especially on songs such as 'Ghost', 'Holland, 1945' and 'Song Against Sex' as instruments were passed around and smiles beamed.
The energy was such that the gig became and ended in a sweaty bouncing cauldron of joy before too long. The brass and rasping distortion brought the crowd moving waves. This is the kind of atmosphere and delirium that showed it to be unsurprising that initial UK shows were sold out, meaning that more dates had to be announced.
Returning to the stage for an encore, Jeff Mangum braved it alone one last time as he played 'Two-Headed Boy (Pt. Two)' – the only criticism of the gig would have been that the soaring end of a rising "…And retire to sheets safe and clean, but don't hate her when she gets up to leave" would have been a perfect ending. However, Neutral Milk Hotel chose their last song to be altogether on b-side 'Engine'.
Neutral Milk Hotel's appearance at the Roundhouse was laced with emotion, and not just for the band. The entire gig felt like a rarity that was well worth waiting for. The band may not go on to record another album due to the problems that the success of their last offering produced and the difficulty of producing anything that iconic again. But for those on this tour including the new generation of Neutral Milk Hotel fans, this was enough and will be remembered, and a bit selfishly wished, as the only Neutral Milk Hotel tour for a very long time.