Múm @ Gorilla, Manchester 20.11.13
On a wet Wednesday in Manchester, Múm charted their 16 -year musical journey with a performance that had the electronic bleeps of their early material, the grooves of their most recent material and most importantly more control over their most experimental wanderings.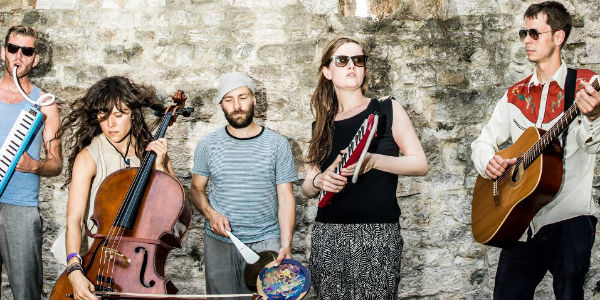 Múm
have gone through a lot of changes since their formation in 1997. They started out as a four piece with twins Gyða and Kristín, reformed into a seven piece band when Gyða left to study and Kristín left to work with Mice Parade, ex-husband Avey Tare (Dave Portner of Animal Collective) and complete her solo work, and then welcomed back both twins to most recently create their album
Smilewound
.
This latest effort is a culmination of nearly two decades of Múm. And there's certainly influence from Mice Parade in the percussion and use of guitar. The newer songs, being shorter and more concise with less improvisation, give Múm a solid base for jamming around when live. They haven't forgotten their experimental electronic ideas on earlier albums though and this gives them a chance to create a sound as eclectic and eccentric as Gyða and Kristín Anna Valtýsdóttir's dance moves.
Before Múm began there was support from Glasgow's
Conquering Animal Sounds
with Bjork-esque vocals and lots of electronic boxes, buttons, synths and twiddly loops. The duo were well received by Gorilla and won themselves a few curious new listeners.
Before long,
Múm
plodded onto stage and warmed up with two slow burners before bobbing and grooving from song to song. 'A Little Bit, Sometimes' – its thudded instrumental chorus was one of the most enjoyable moments of the evening – brought out a fantastic jagged, bi polar and gutsy side of Múm and then 'Slow Down' from
Smilewound
brought everything to a lull with its swallowing, gulping bass. This change in pace frequently happened, and it kept the set interesting.
The two sisters, Gyða and Kristín Anna Valtýsdóttir, were the focal point of the band. Their call and return layered vocals, swirling dancing and air punches grabbed attention. This was well demonstrated when
Smilewound's
lively 'One Smile' and 'The Colourful Stabwound' kicked in. Gyða beat the air above her head with her fists and purposely lost her face in hair. Her dancing added to the beat and her punches enhanced each viscous downstroke of her sister's cello. And with strobe lighting those hair movements just looked better. She clearly enjoyed this new higher tempo.
After what seemed to be a short set, Múm returned to the stage for one encore, with a song that Kristín introduced as, "the kind of song where you can hug anyone who's near you." The crowd "awww"'d collectively, and then 'The Island of Children's Children' began its abstract musings to fade out.
Múm's musical talents have never been in doubt, but moments on their back catalogue can feel overly weird or eccentric for the sake of being inaccessible. However, with the addition of their latest material to their set they have gained more control over their most experimental wanderings and their gigs have additional variety in pace and tempo. There were still a few moments when their wanderings drifted, but most of their set came together like Múm did to take their bow; wrapped tightly around each other and spanning over 16 years of music.