Moon Duo @ The Kazimier, Liverpool 07.06.12
Californian psych/drone rockers on dazzling form in Liverpool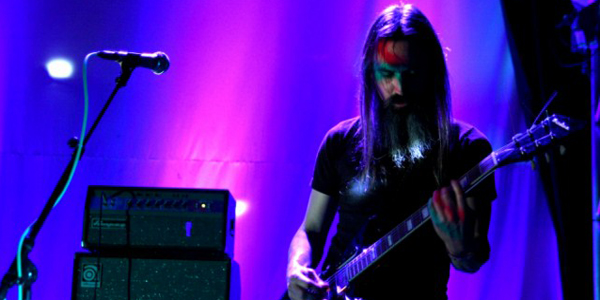 Currently receiving deserved attention in the blogosphere, Leeds quintet
Hookworms
trade in lengthy psych jams, their dual guitar interplay scrambling over the jagged terrain summoned up by their lead singer on keys and samples.
Evoking The Verve's early works in their use of light and shade, the band flit between squalling axe histrionics and stretches of relative calm, flinging themselves into proceedings as the six-string section writhes around in complete abandon.
While the vast majority of the set more than cuts the mustard, excellent recent 45 'Form and Function' proves to be the standout.
Built around a grinding bass riff, eastern Zeppelin-esque guitar lines and a wide-eyed, star gazing vocal followed by a blazing, accelerating coda, the track gives an exhilarating glimpse of where the band may be headed next.
Moon Duo
, piloted by guitarist/vocalist Ripley Johnson and his missus Sanae Yamada on keyboards/samples/vox stake out similar frontier-stalking territory as Johnson's day job in psych-proggists Wooden Shjips.
Despite the obvious similarities between the two acts, onstage the principal differences lie in the 'Duo's lack of a human rhythm section and the absence of the Shjips' bludgeoning basslines.
Venturing out from their sister ship in a smaller, lighter craft to explore the further reaches of the galaxy, on record the pair swerve towards pop song structures. Their tracks clocking in around the five minute mark, the interlocking guitar and keyboard hooks click together to form mosaics of drone/psych wonder.
Live, songs are extended as the pair push the running times further out, exploring where the tracks could take them next while maintaining an eye on the underlying structures.
The insistent keyboard riff and dual vocals of 'When You Cut' intercut with guitar scrawls sees the band stride forwards with a West Coast psych/garage swagger doffing a cap to the Duo's San Francisco roots.
'Seer' matches churning keyboard generated soundscapes with roaring axe-led textures that come together in a brilliantly sulphurous mix while 'Scars' led off by desolate keyboard and vintage drum machine patter highlights the treasured influence of Suicide.
'Run Around' meanwhile rattles along, its meandering blissed out guitar lines weaving their way through the foundation of sampled tambourines and simple keyboard motif.
The closing stretch sees all four large screens that make up the band's stage backdrop pressed into service, bathing the audience in swirling monochrome images.
Save for a few 'Thank You's', the couple remain silent between songs, leaving those not nodding along intently lost in the vortex of sound, simply stood mesmerized by the group's dazzling, persuasive power.